New things on our website!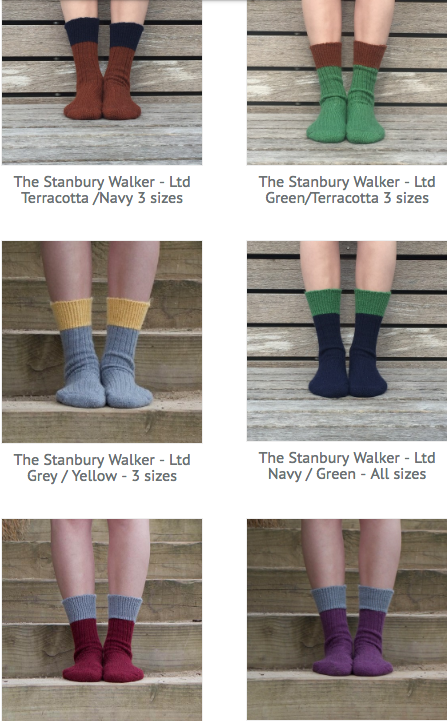 Earlier this year we were featured on BBC's Sunday evening tv programme Country File. They told the tale of our lovely Stanbury Walker Walking Socks, a trusty hard-wearing cushion-soled sock, which we are proud to say is named after our local farmer, and friend, John Stanbury who rears the very sheep that produce the fibre for the socks!
In celebration we have now released a selection of limited edition colourways in our Stanbury Walkers.
You can find them here in the specials section of our website.

As these are limited edition colour combinations, we will not repeat them, however we are aiming to stock up our regular 8 shades for the autumn. The Mill is busily spinning more yarn for the socks right now so it can then be knitted up like crazy into a huge mountain of socks.
Other new things this week on the website include the Knit by Numbers range in 4ply! An incredible feat took place to get all 91 colours spun into a beautiful fully worsted 400m per 100g yarn. Go team! And it wonderfully compliments the original double knit range in the same shades.

We also have a few new Fibre Tops for hand spinning, felting, or any other fibre craft … including Corino (a cross breed of the Merino and Corridale sheep) and Perendale.


And, if you are a Mill Member, you will have first look at our Stanbury Walker Sock hand knitting yarn in natural white, and brand new Corriedale Cross Top which is in a rich natural brown colour.
Lots of new treats to share…
Enjoy!
Over and out!