Virtual Mill Open Weekend
Saturday 9th & Sunday 10th of July, 2022 
As much as we'd love to see all your faces in person, we know that it's not always possible. There are many wonderful things about residing in the heart of Devon, but easy access for visitors is by no means one of them! But we deffo want to make sure to include all of you who are unable to visit in person in our festivities. For this reason we will be hosting a Virtual Mill Open Weekend on 9th & 10th July 2022 and we'd love for you to join us!
There will be all the usual goodness – virtual mill tours, workshops with talented tutors, oodles of limited editions and specials – but you'll be free to enjoy it all from the comfort of your own home. All events are now live on Eventbrite and you can find them all here. 
Days: Sat 9th & Sun 10th July

Hours: 11am til 7:30pm (BST)

Classes and Talks: We have some absolutely ace talks and workshops over the weekend, including natural dyeing, beginners spinning, Mill Q&A, visible mending and chats with a few talented designers.

Tickets for these sessions are free of charge. 

All talks are now live on our Eventbrite, so do pop over and fill yer boots! See below for a description of each session. 

Brewed by the Mill Folk Specials: The Virtual Open Weekend will also be where we'll be releasing our special edition, Brewed by the Mill Folk yarn and tops. These shades have been lovingly hand-chosen and spun by our talented team and we love every single one of them. This will be the first time we'll be offering these joyous limited editions on the world wide web, and we can't wait to see what you think.

Designing these shades has been a very personal project here at the Mill, and everyone has blended something that reflects their own personality… More on that to come! We have created three swanky new shades for each of Appledore, Devonia, Harvest Hues and Yarnadelic in all available weights.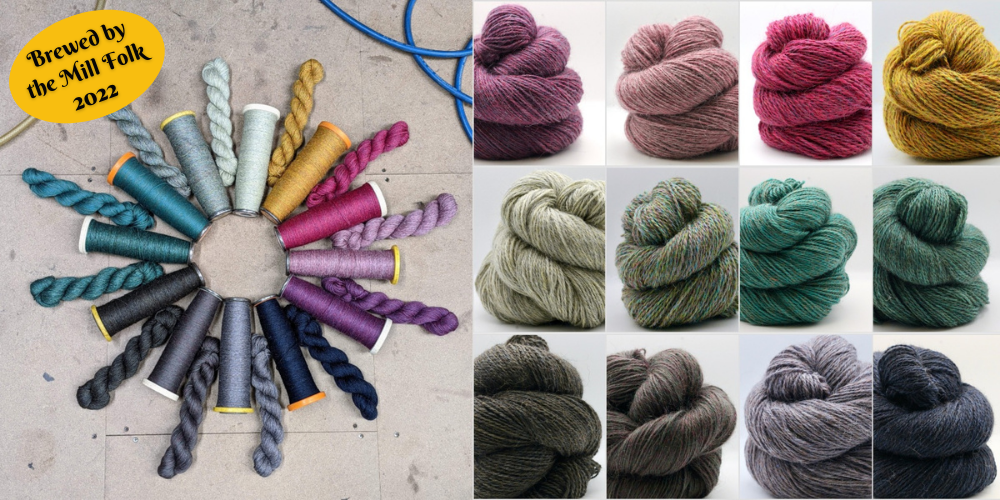 To celebrate the occasion, and our new specials, we're also releasing a brand new pattern…
The Pick and Mix Cowl, designed by our very own Kari-Helene Rane, is a pattern that lets your imagination run wild. Take three of your favourite skeins, and mix and match sections of lace, colourwork and texture, to create a cowl that's truly your own. We've made some gorgeous versions of Kari's cowl and can't wait to share them with you! 
Classes and Talks

Free Solo – Launch Party with Melanie Berg! 
Saturday – 1:30pm to 2:30pm (BST) 
Grab you party hats and join Melanie Berg and everyone at JAT in celebrating the launch of the stunning new jumper design, Free Solo, created by Melanie in our very own Harvest Hues. Melanie will talk about her creative process and design development, and we will have some stunning kits put together especially for this event!
All sessions will be recorded and added to our YouTube channel after the event.