John & Juliet's Adventures in Ireland!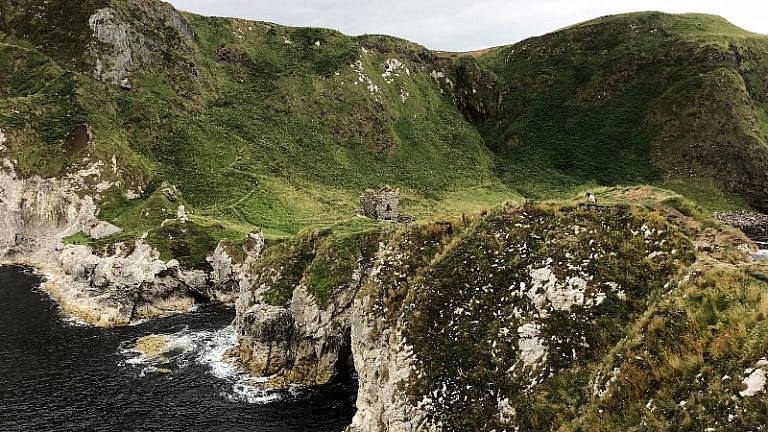 John and Juliet have long been yearning for an excuse to visit Ireland's dramatic coastline, so when they heard about the Yarnfolk Festival of Wool in Whitehead they began hatching plans to combine this lovely show with a bit of sight seeing.
Yarnfolk, which is organised by the lovely Louise of Lighthouse Yarns, has just had it's second year and is going from strength to strength. This one day show takes place in a handful of different locations in Whitehead.
Juliet and John loved the show. It had a really lively atmosphere. They had a splendid time catching up with some familiar faces and also meeting many new woolly folk. Everyone was so friendly and chatty. It was a wonderful, relaxing bubbly show full of fabulous woolly enthusiasm and excitement. Thank you so much to all who popped by for a natter.
We took a reduced version of our usual show stand, but still had a fine an array of delicious Yarns and Tops. People were very excited to glimpse all the shades of our Knit by Numbers 4-ply (including those diddy little mini skeins) for the first time in Ireland. John also packed his tubs of joy, with oodles of different Tops blends!
We do ship to Ireland, but are firm believers that buying online is never quite as good as getting a chance to squish and see the Yarn and Tops in person.
It's important to sample the local delicacies when one's on holiday and Juliet had much enjoyment working her way through Northern Ireland's traditional baked goods. Below is a photo of her and Fay tasting Traditional Fifteens, a local traybake. So named because it has fifteen of some of the ingredients – cherries, digestives, marshmallows, plus some condensed milk and desiccated coconut… yum!
Fay is one of our lovely woolly chums – click this link to see her elegant fuss-free crochet and knitting patterns on our website. We were so pleased to be exhibiting right next to her at Yarnfolk!
But (as already mentioned) John and Juliet were not just in Ireland for the yarn. They also made sure to take a bit of a break and soak up the sights and do some exploring!
Here they are at the iconic Giant's Causeway, a natural phenomena which was created millennia ago during a volcanic fissure eruption. Under immense pressure, the Basalt stone formed into hexagonal columns.
Coincidentally, the aforementioned Fay's fantastic 'Basalt' shawl pattern has its inspiration from this very place, so a visit was essential. We can understand was she was so inspired – the Giant's Causeway is a truly amazing and breath-takingly phenomenal place!
Northern Ireland is renowned for it's castles. And John and Juliet love a castle. They visited both Dunluce and Kinbane to soak up the rugged landscape and get a glimpse at the medieval history of the country.
John even managed to find himself a bit of old machinery at an abandoned cottage near Kinbane Castle. How excited he was! He is never happier than when he finds an old piece of machinery that requires some love and attention. Don't worry, Juliet didn't allow him to bring it back to the Mill (it just did not fit properly in his rucksack).
Juliet was so taken with Traditional Fifteens that she continued her food odyssey of Ireland. Here she is sampling Yellow Man, a traditional Irish candy. This luminous yellow sweet is vanilla flavoured and reminded her a little of the sea-side rock that can be found in many a shop down in Lynmouth… maybe a bit of an acquired taste for anyone over the age of seven!
One of John's favourite adventure days in Ireland was their visit to the Gobbin's Cliff path. This dramatic cliff walk was built by the engineer Berkley Dean Wise and originally opened in 1902. Unfortunately the path fell into disrepair during World War II, but in recent year's it has been fully restored.
John was like a little child delighting at the views and bouncing up and down on the bridges. Whereas poor Juliet is slightly afraid of heights, but loved it nevertheless as she happily was equipped with a hardhat accompanied by the soothing guidance of Sam (their trusty tour guide). It was an amazing experience, topped off with the sighting of a seal playing happily nearby just below one of the bridge cliff paths!
Let's face it – John and Juliet wouldn't be able to cope if they spent a whole week without a fondle of some delicious Yarn and Tops. In order to get their woolly fix they visited two of Ireland's most splendid yarn shops This is Knit in Dublin and Lighthouse Yarns in Whitehead. Thank you for the warmest of welcomes.
We hope you've enjoyed seeing a little glimpse of what these two got up to on their holidays!
They both had the most splendid time in Ireland and are certainly love to go back again next year! Their well deserved rest has done them no end of good and they've come home fizzing with new ideas. We can't wait to share them with you over the coming months. x