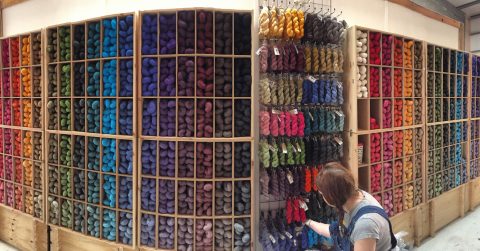 If you have seen us at a show in the past, then you'll definitely have met our gloriously giant wall of Knit by Numbers. This delicious rainbow of yarn is available in a whopping 109 shades from bright pops of colour and rich jewel tones to subtle mid tones and delicate pastel shades – and everything in between! Plus every colour is available as both 4ply and DK in either 100g skeins or 25g minis. And we've just launched four fab new KBN patterns today, so if you haven't tried this lovely bouncy organically farmed Falklands Merino yarn before, then this is the perfect opportunity to give it a go.
So without further ado, we'd love to present to you the first of our new patterns, Vaffel by Kari-Helene Rane. This tee (pictured above) is a lightweight and luxurious knit ideal for layering in winter or on its own for spring and autumn. It is knitted using our KBN 4ply on larger needles for a luxurious and light feeling fabric with lots of drape. The simple shape combined with the detailed stitches and finishes makes this an interesting knit without being too challenging. Kari-Helene has used a delicate and feminine shade (KBN90), but we think it would be equally gorgeous in any colour from blues and greens to neutral grey. This beautiful tee uses between 2 and 4 skeins depending on size.
We also have this fabulously cosy crochet design, the Grainbow Shawl, designed by Rosina of Zeens & Roger. This triangular shawl uses simple stitches and touches of colour to create a modern crochet accessory. We love her use of mini skeins! Rosina has used 3 skeins of KBN DK for the main colour and 6 KBN DK mini skeins for the contrast colours.
This gorgeous Esher Hat by Ella Austin is a playful and fun colourwork project using two skeins of KBN DK. Ella is a colourwork queen and this beautiful hat is no exception – we love the graphic diamond pattern and slouchy fit! Plus Escher is available in sizes for both kids and adults, so you can make matching hats for all the family!
The next delicious new pattern is the Whale Song Cowl by Mina Philipp using two skeins of our KBN DK. We just love those intricate fisherman's rib cables. The cowl is bouncy and beautiful – the design is looser at the bottom and then tapers to give a snug fit around the neck, so it will keep you cosy and warm. Whilst swatching for this design, Mina was reminded of blue whale tales, such a fun playful idea… we love this two colour version and the pattern also includes instructions on how to make a one colour version too.

Mina also has a fab YouTube podcast, so we'd well recommended popping over and taking a look if you haven't run into her before. 
All these glorious patterns (and many more wonderful things too) will be on display for your delectation at our 6th Annual Mill Open Weekend. This fun event is now only a few weeks away, so very soon we'll be setting up the marquee and starting to polish all our machines so they're ready to put their best cogs forward and show you what they're made of on Saturday 8th & Sunday 9th of June.
We cannot wait to share our wonderfully wooltastic Mill with you again. If you would like to book a viewing slot of the machines then please get in touch via the email address (or phone number) below. But of course, you do not have to view the Mill machines, you are more than welcome to just come for the day, fondle the woolly wonders, drink tea and eats cake and have a catch up with friends old and new too. The Open Weekend is as much of a social event as it is an opportunity to see our machines, so please don't feel as though you need to book a viewing if you have done so before, just bring yourself along and be part of the woolly fun.
6th Annual Mill Open Weekend
Saturday 8th & Sunday 9th June – 10am to 5pm both days

Click Here for more info.

To book a Mill Viewing please get in touch using the details below. Thanks!

[email protected] / 01598 753550