Cheering on our BritSpin teams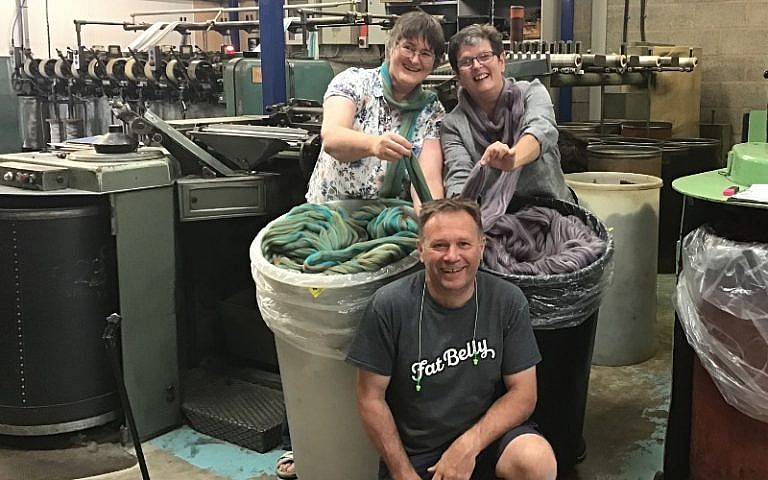 One of our most favourite things about the woolly world are all the wonderfully vivacious, colourful, inspiring folk who populate it. The fibre community is a fab place brimming with some serious talent and many smashing events. One of the newest and biggest events in the UK hand spinning calendar is BritSpin.
As some of you know, the British Wool Spinning Marathon (or BritSpin) is a 4 day challenge event taking place from this Thursday to Sunday. The participants spin up as much yarn as possible during the challenge. All the proceeds go to the UK Association of Air Ambulances and it is a wonderful way of highlighting the many varieties and joys of British wool. And we are lucky enough to be sponsoring two teams this year: the Arbonites and the Arbonistas.
John worked his woolly wizardry and whipped both teams up a limited edition Tops blend to use during the event. You can get a glimpse of both of these Tops in the fab photo above, but first we want to introduce you to our two John Arbon Textiles teams: The Arbonites and The Arbonistas! Between the two of them, there is so much infectious spinning talent on display, that we'd certainly recommend having a nosy at the BritSpin group on Ravelry.
First up are the Arbonistas, otherwise known as Valerie, Chris, Brenda, Lesley, Brenda, Marilyn (Captain), Thalia, Jan, Julia and Teena.
Their favourite shades are purples and blues so John created this soft subtle limited edition shade, Storm Cloud, for them. The colour is a dreamy blend of delicate Lavender and Plum tones, paired with white.
The Arbonites are made up of Donna, Sue, Hilary (Captain), Yve, Andrea, Jackie, James, Claire, Bex and Rosana.
Their favourite shades are teals and mustard so John's created this complex heathered limited edition shade, River Rapids, for them. This calming blue and green autumnal medley of shades, reminds us of a swiftly flowing river.
So now that you've met these two splendid teams, we hope you'll join us in cheering them on in their marathon later this week!  And, of course, as this is all raising monies for charity, we should not forget the other 20 odd teams.  We wish you all a sensationally splendid spinning session!