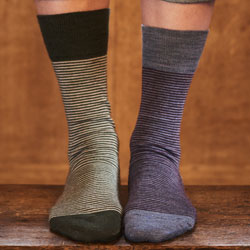 Tis that time of year again when all the festive merry-making has begun… and, to coincide, you should now all have a copy of our latest John Arbon Textiles catalogues – 2 this year, one just for our lovely Socks and the other full of Yarny things (these accompany our up-dated website).

Now you may well have ordered already, but just in case, in each catalogue there is a little postcard giving you a 10% discount on any purchases, (either via the website, phone or catalogue order form) from now right up until Christmas Eve (we have moved the deadline back).
So, if you have not received a copy of the catalogue and would like one please just contact us. And please do take advantage … remember, you can use the discount on more than one order!
Do not forget to look at our Sock & Yarn Specials page which has a few special offers … and from this weekend, right up til stocks last, will include a new Christmas limited edition run special style – a beautifully fine Stripy Merino Sock in assorted colourways – a perfect sock for everyday wear.
 Just to let you know, our lovely Stanbury Walker socks are back in stock now in all 8 colourways in all 3 sizes.  These are our hardy, yet comfy, cushion soled Walking socks featured on BBC TV's Countryfile early last year – made from the fibre of our local Exmoor sheep and named after our Lynton farmer John Stanbury who farms those very animals.
Plus all our lovely other socks are on the website too … from our snuggly Bed Socks to our thermally knitted Terry Loop Socks … our everyday Dress Socks to our colourful Stripy Socks.  A different sock for every occasion!
And, as always, we have lots of lovely woolly treats in yarn and tops land too.  Here's a tiny handful to tickle your fancies…
Also if you are a Mill Member, head over to your secret page for some special colours and styles not featured on the main website!
Now, back to adorning our little Lynton shop with Christmas dec's and the impossible challenge of keeping John away from the choccies!