Coronis by Emily Ringelman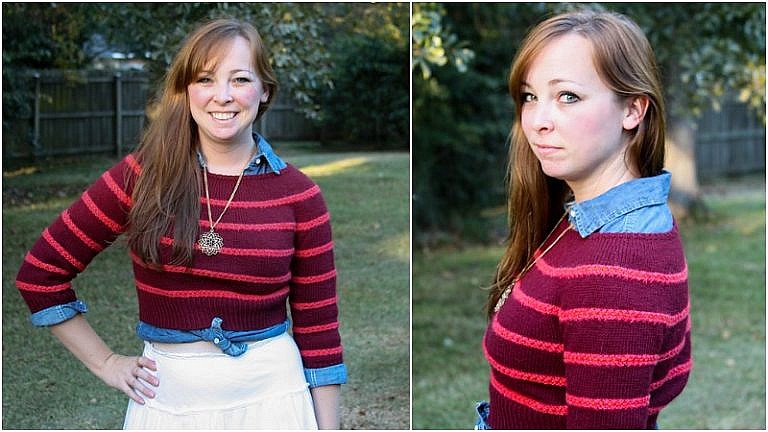 Our Knit by Numbers DK makes wonderfully cosy and comfortable jumpers. And now that it's August, our thoughts are starting to turn to colder weather and bundling ourselves in marvelous wool once more. It may not yet feel like it, but that crisp autumn weather is just around the corner! If, like us, you are starting to ponder new knits for autumn then, why not opt for Emily Ringelman's gorgeous Coronis jumper? This pattern was originally the cover girl of Pom Pom Quarterly issue 10, and we're now thrilled to have this fun knit on our website!
Coronis is a fun cropped pullover with slip-stitch stripes. Wear it with some positive ease for a comfy weekend piece, or go with negative ease for more of a vintage, bombshell look. This cropped pullover is worked from the top down totally seamlessly with a circular yoke. Not into cropped silhouettes? Simply knit the body to the length you want – it's so easy to do with a top-down design. The same applies for the sleeves. Make them long or short – it's up to you!
There are so many unique and inspiring takes on this jumper on Ravelry that we just had to share a few of our favourites with you. With 109 shades of KBN DK to choose from the possibilities are rather mind boggling!!
We hope you'll find these lovely folks' projects just as inspiring as we do.
First up is Nelly (bighairbigfun on Ravelry) and her cheerful grey number. Grey and red is always a winning colour combo in our book and those little pop's of orange in the stripes, just add that extra bit of pizzazz to her selection.
Nelly used KBN DK 06 as the main colour and 21 / 13 as the contrast.
Laura (purlprincess91 on Ravelry) also chose grey as the main colour, but this time a slightly darker shade, which she paired with a red and white contrast, to give the garment a bit more of a classic feel.
Laura used KBN DK 05 as the main colour and 22 / 55 as the contrast.
Jaqueline chose to lengthen the body of her Coronis a little and knit a size with a few inches of positive ease – we just love the results – a laid back and easy jumper. Her cheery spring colour combo of soft greens and yellows is also pretty swell.
Jaqueline used KBN DK 48 as the main colour and 18 / 54 as the contrast.
Lea Lacoste (WildHandMade on Ravelry) chose such a calming turquoise shade as her main colour. The grey she's paired it with is on point! Lea Lacoste chose to lengthen the body and sleeves of her Coronis with just a little bit of positive ease, so her garment has a relaxed fit.
Lea Lacoste used KBN DK 42 as the main colour and 06 / 22 as the contrast.
Ruth (GotieGirlie on Ravelry) and Jennifer (wishonastar on Ravelry) both also decided to add more of those lovely stripes! How splendid are both their colour combos?!
Left: Ruth used KBN DK 01 as the main colour and 46 / 09 as the contrast.
Right: Jennifer used KBN DK 21 as the main colour and 03 / 42 as the contrast.
We love the riot of colour in Liberty (LibertyJean on Ravelry)'s cropped version – she's used a bold purple and orange combo which would be sure to lift one's spirits on a cold drizzly day. Doesn't she look fab?
Liberty used KBN DK 26 as the main colour and 14 / 18 as the contrast.
It looks like Feline (Felinchen on Ravelry) had a blast with her Swatching! She trialed the stripes in both combinations. We love the joyous orange and maroon combo she alighted upon. That delicate pop of green sets the other two shades off fabulously. Feline decided to knit her version with a fair bit of positive ease and we love the results.
Feline used KBN DK 74 as the main colour and 16 / 47 as the contrast.
We hope you've enjoyed seeing this parade of glorious Coronis jumpers as much as we did. Isn't it just inspiring seeing people's spectacular handywork? Personally we'd love to have a multi-coloured version using grey as the main colour and all the mini skeins for contrast! Now there is a thought…. Farewell for now as – we're off to spend the next half hour perusing the shelves of our little Lynton shop!
For anyone who fancies joining us in a browse, you'll find the pattern specifics below and if you click here, then you'll be taken to the pattern page on our website. Happy knitting! xx
Garment Bust: 76 (81, 86, 91, 96)(101, 107, 112, 117) cm / 30 (32, 34, 36, 38)(40, 42, 44, 46)" – designed to be worn with +2 to -2″ of ease in the bust. Shown in size 34″ bust with approximately 2″ of negative ease.
Yarn: John Arbon Textiles Knit by Numbers, DK (100% Organically Farmed Falklands Merino; 250 metres per 100g)
Emily's original version uses:
Colour A: KBN 74 (Burgundy); 2 (3, 3, 3, 4)(4, 5, 5, 6) skeins
Colour B: KBN 21 (Light Red); 1 (1, 1, 1, 1)(1, 1, 2, 2) skeins
Colour C: KBN 13 (Orange); 1 skein for all sizes
Note that if you plan to lengthen the sweater, you will likely need another skein of Colour A.
If we've piqued your fancy and reminded you of the many delight's on offer in Pom Pom issue 10, then click this link to get your hands on one. The issue was themed around folk art and all the photos were set on a canal boat – bloomin' dreamy!