Edinburgh Yarn Festival here we come…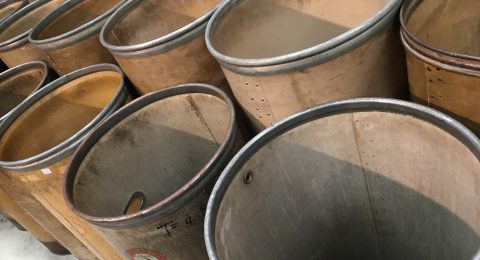 Today at the mill we are busy bustling around and gathering the finishing touches for our stand at Edinburgh Yarn Festival!  Whilst John is finishing off making some specials to bring (he can't help himself), and packing the van and trailer full of woolly goodies, we thought we would share some of the treats we are bringing up with us.
So we have new minis!!  This time in DK.  And they will be making their first appearance at Edinburgh.  Last year we unveiled our Knit by Numbers range in a 4ply super cute 25g mini skeins and this year we have the DK range in minis too!  In all the KBN gradient shades (over 100 to select from).  They are perfectly formed pops of colours for fun accents, colour work, gradients and fades.  Do not worry, we will make these available on our website on our return from Edinburgh (to Mill Members first).
You may have heard that we have also added the next colour to our Knit by Numbers range.  Copper, formally known as Burnt Orange, will be joining our rainbow of Merino dreams in both 4ply and DK.

As well as our own specials, John works closely with Andrew from Wooltops to create one-off natural coloured yarns and tops from fibre he sources for us.  Our latest collaboration is Corriedale Alpaca – a beautiful natural grey fawn colour (a blend of white and brown Falklands Corriedale with white superfine Alpaca).  This is available to Mill Members only at the moment on our website (or wholesale via Andrew @ Wooltops), but we will have a limited amount on our stand in Edinburgh too.
Mill hand Helena has dyed a couple of skeins to see how it takes, and doesn't it look fab, bloom!
We are also bringing our other regular yarns with us as well … like Devonia in 4ply & DK, Alpaca Supreme, Alpaca 2-3ply, Harvest Hues (to name but a few) … and we are also taking some new patterns as well (more news of these in the next bog!)
Lemel by Francesca Hughes, using Alpaca Supreme and originally published in Pom Pom Quarterly.
Devonia Cream by Francesca Hughes
As for Tops, well John and the team at the Mill have been whipping up some special blends and colours.  We only have a smaller space for Tops on our stand than at many other shows, but never fear, John has a new space-saving display for them so he will be bringing a fine selection of special one-offs and regulars.  Here is a taster … Silver Thistle, Silver Sonnet, Atlantis all 3 sumptuous blends of Merino, Brown Corriedale and Silk and Neptune, a gorgeous Merino Silk blend.
Look out on our Instagram page (@johnarbontextiles) for more images of woolly wonders we are taking up to Scotland!
Righto, best be off to gather the finishing touches.  We hope you are as excited as we are about the show, and we look forward to seeing you in Edinburgh!   And, never fear, if you can't make it to EYF, some of these new specials are available on our Mill Members Secret page already ?