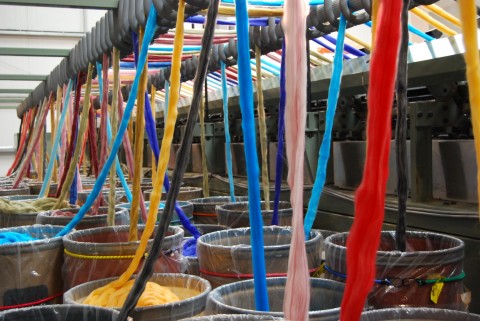 We are now on the final run up to Edinburgh Yarn Festival! Over the next few days we will be organising our yarn stash, whipping up some tops and pairing our socks!
We are getting ready to embark on the long drive up to Scotland from North Devon and cannot wait!
On the stand, as well as our normal array of yarns including Knit by Numbers, Viola, Alpaca 2-3 ply, etc, we will be bringing along a very lovely run of a new Knit By Numbers DK colour – Mustard, in 6 lovely shades! …going from a lovely Dijon coloured Mustard through to a light hint. … And, you will of course be happy to know, we are making good progress on the 4-ply!! Shh! … this will be available later in the year.
We are also bringing a special limited edition run yarn with us … a 100% Devon Wensleydale in a natural fawny Grey colour … it is a light 4 ply weight (400m per 100g) and truly beautiful! We will only be bringing a small amount, so watch out for it! It is super fresh off the spinner, so we don't even have a photo yet. But keep your eyes peeled at the show! And, we will be setting aside a separate amount for our lovely Mill Members – it will be available to you on your secret page by the end of March.
Plus we will be bringing Frankie's new and very lovely pattern 'Sweet Clementine Shawl' with us for its second show outing … a large pretty lacey shawl using 2 skeins of our Alpaca 2-3ply yarn.
And as for Fibre & Tops … well, we are bringing two new Tops that we have not been out and about before….
100% Corino, a crossbreed of the Corriedale and Merino sheep – producing a super soft fibre with a good staple length, a micron of 23 … a very nice natural white top!
And Perrendale, another new white top – from a hardy hill sheep with medium wool, it is not the finest, however it has lovely characteristics and a bouncy nature (a little similar to the Exmoor Blueface).
And these 2 new tops will also be available on our Secret Mill Members page by the end of March as well.
Phew, so with all these new exciting things we will be bringing along, we can't wait to see you at Edinburgh Yarn Festival at the end of the week! Just in case you need reminding – it is the 18th & 19th of March at the Edinburgh Corn Exchange and you can get more information here!
See you there!