Exciting Autumnal Happenings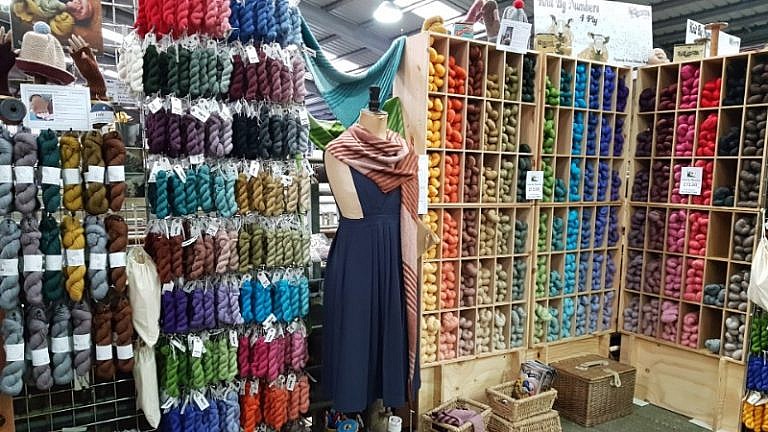 Things have been rather bustling here in woolly John Arbon Textiles land. It's hard to believe it has already been a month since returning from Yarndale.
There have been lots of things keeping us busy…
We have been cheering our BritSpin teams – Arbonistas and Arbonites – on to do very well indeed (1st and 5th place respectively).
Watching the exciting progress of Frankie's KAL – many different projects flourishing in lots of lovely yarns and colours.
We've been planning some tantalising new goodies and specials for later this year – keep an eye on the Mill Members pages towards the end of November for a rather epic update.
Plus we are also making ready cos we're off to Yarnporium in London very soon – Helena and Sonja will be taking the helm for this lovely show, whilst John and Juliet are having time away that same weekend at Gwent Guild.  Our Yarnporium stand will be smaller than our usual show affair, displaying a selection of our favourite Autumnal Yarns and a smattering of Tops.
Meanwhile, in amongst all this, we are excitingly on the TV tomorrow (Tuesday) – see later for more info.
Although Yarndale was a while ago, we want to share some glorious photos of the show with you. This is always one of our favourites and we met so many splendid folk and friendly faces both new and familiar.
We had the most tremendous time – our new hand painted signs looked glorious on their first outing. They were made for us by sign painter and Cornish artist Amy Goodwin, follow this link to read all about them. Amy's amazing work was very much admired and we were really chuffed that you like them too!
Our new and expanded palette of Harvest Hues 4-ply was looking very fetching. We really enjoyed showing you all our new patterns and samples. We'll be taking all these glorious new beauties to Yarnporium (2nd & 3rd November). This will only be their second outing!
Many glorious woolly folk came to visit the stand for a natter and a squish. Some people (like the lovely ladies above) even brought beautifully crafted projects to show us. It means such a lot to all of us to see the wonderful handywork which goes into our Yarns and Tops once they leave us – they are always so inspiring!
We are very much looking forward to Yarnporium in a few weeks time. Sonja and Helena will be bringing oodles of Harvest Hues yarn, Knit by Numbers 4-ply mini skeins, a selection of Devonia and Alpaca Supreme, plus a few tantalizing Tops and patterns galore! It will be Sonja and Helena's first show without John and Juliet – they are very excited.  They will have the KBN 4ply minis proudly on display, but will be leaving the giant full display of Knit By Numbers cabinets behind safe at the Mill.  With our Harvest Hues in pride of place, we're sure you'll find lots of wonderful wares to browse. We don't do many London shows, so are really looking forward to being in the capital!
You can find out more info about Yarnporium here.
Address: Central Hall Westminster, London, SW1H9NH
Opening Times: Fri 2nd Nov …10:00 – 18:00 / Sat 3rd Nov … 10:00 – 17:00
In other exciting news John and the Mill are going to be on telly tomorrow (Tuesday)!
We love our Mill and all our vintage machinery, so were chuffed to bits when the Escape To The Country camera crew came to visit as part of their episode set in Exmoor. In between helping a couple house hunt for property, Jules Hudson, met John and toured our Mill to see what we get up to there and how we make our Yarn.
You'll be able to catch it on the Somerset episode at 3pm tomorrow (Tuesday) on BBC1 or on iPlayer (for the following 30 days). Hope you enjoy this glimpse!