Frankie is hosting her first ever KAL!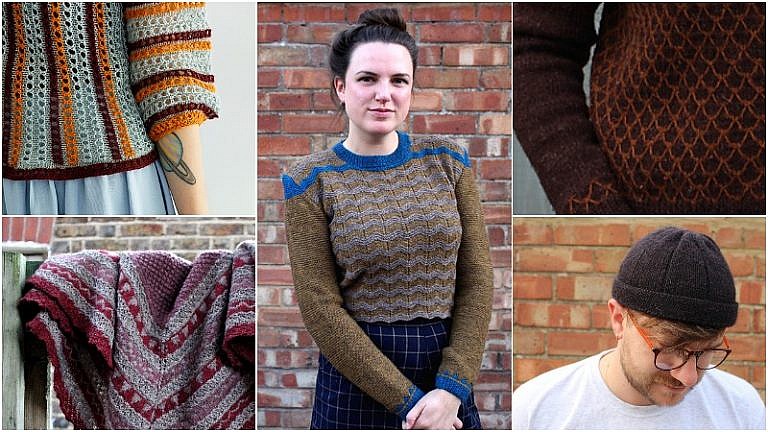 Francesca Hughes (or Frankie as many of you may know her) is a rather fabulous soul. Back along she could be found alongside Gillian the skein winder and Butler the spinner at the Mill and, although she is currently residing in London, she's still very much a part of our woolly family and can often be found on our show stand…
As you're no doubt aware, Frankie is not just a groovy woman but also a talented and unique knitwear designer. She's had garments in many marvellous knitting publications from Pom Pom Quarterly to Knitting Mag. Click here to view all her designs on Ravelry… Happily, she has often chosen our yarn for her designs – she knows them quite well, afterall, she did give John a helping hand creating some of them.
So when Frankie told us she was mulling over the idea of hosting a Knit Along (a KAL) – we just had to get involved! We are such huge fans of her glorious designs. We really hope you'll be joining in the fun too! Please find all the rules (a cheeky discount code) – and an abundance of pattern inspo from Frankie's back catalogue – below.
Her two newest designs Syrup Waffle and St. James (both pictured below) are designed using two of our wonderfully local yarns – Exmoor Zwartbles and Devonia, respectively.  Both have such a rich autumnal feel, and would be perfect for wrapping yourself up in whilst the nights close in. Frankie's certainly got it right when she says that Syrup Waffle is a "cardigan to go with any outfit: wear it as a smart cardi with a dress, or as a casual jacket with jeans. The beautiful natural shade of the Zwartbles fibre is a great base for adding a pop of individuality through colour."
Whilst designing the St. James hat, Frankie was "inspired by a Breton watch hat our very own John Arbon bought whilst holidaying in France… It should become your go to hat to accompany you on seaside rambles and treacherous adventures which normally involve hopping fences, long short cuts, getting your feet wet and almost always ending with a pint in hand."
So without further adoo, we'd love to invite you to join in with the #FHKAL18! Frankie will be hosting this KAL over on her Ravelry Group and also on Instagram using the #FHKAL18 hashtag.
Plus as a bit of a thank you from us (to you and also to splendid Frankie) simply head over to the Ravelry thread to get your hands on a 10% discount code off the yarn for your Francesca Hughes project (plus a free project bag).  And a note to all our splendid Mill Members… you can use this code in conjunction with your Membership discount, so the code will entitle you to and further 10% off.
When does the KAL start? 5th October 2018
When does it end? 12pm GMT, 31st December 2018
What is the discount code? FHKAL2018 (enter at checkout on the John Arbon Textiles website to get 10% off your yarn if your purchase is £40 or more)
How long is the discount code valid for? Until 12pm GMT, 31st October 2018

Can I use the discount code in conjunction with my Mill Members Discount? Yes you can and you will receive an additional 10% off.

 Are WIPS allowed? Yah! All Francesca Hughes Knitwear WIPs allowed.
I have already finished a Francesca Hughes project, can I still enter it? Yes sure, we would love to see what you've made!  🙂
Can I take part in the KAL and use yarns that aren't from John Arbon Textiles? Of course you can! See below how prizes will be awarded depending on this.
Where do I get in on the chat about #FHKAL? A chatter thread is being hosted by Frankie in her Ravelry Group.  On Instagram you can also use #FHKAL18 for chatter and also tag #francescahughesknitwear so that your gorgeous makes will continue to be seen long after the KAL is done and dusted.
Where do I post my FO?  There will be an FO thread in Ravelry and you can also use #FHKALFO on Instagram.  If you post in both locations, you double your chance of winning a prize!
Will there be prizes?  YES! There will be a one main prize which will be awarded at the end of each month (drawn and announced by Frankie)…
Main prize: If your KAL entry has used 80% John Arbon yarn you will win 2 skeins of John Arbon yarn plus the pattern of your choice from Frankie's collection (either hardcopy or electronic).
Second Main Prize: If you haven't used John Arbon Textiles yarn, Frankie will gift you her entire back catalogue of patterns in her Ravelry shop at the time of selection… One winner will be selected 31st Oct, 31st Nov & 31st Dec!
Additional prizes: we'll have three pattern winners each month (either hardcopy or electronic).
Can I double dip with other KALs? Of course! It's a great time of year for woolens!
Is there pattern support available during the KAL? Yes there is, Frankie is more than happy to help with alternate yarn and colour choices and if you need further support with the actual patterns, Frankie will be on hand to help. Contact her via email at [email protected].
Frankie told us she "can't wait to see all your FH KAL knits! We have given 3 months for this KAL, so there is plenty of time to try something you may not have before, or take your time with a more challenging project. Finishing on the 31st December, means you should be able to wear your finished FO on New Year's Eve, whatever you're doing. Start the New Year as you mean to go on – adorned in beautiful knits!" We whole-heartedly agree… 🙂
This blog post is only able to hint at the delights on offer! Frankie's collection of designs is wonderfully varied, so we're sure you'll find something you fall for… She specialises in glorious texture, so anything she's designed is sure to be an engaging knit!
As mentioned above, there is absolutely no obligation to knit something designed for our yarn… please see below for a sneaky glimpse at some more delightful patterns Frankie's created for some of the incredible companies we spin yarn for.
If you've been pondering making one of Frankie's creations or have some gorgeous yarn already waiting in your stash, then maybe now is the time? Autumn is always such a fab time to cast on a new project.
Happily, many of Frankie's beautiful patterns are available on our website, both as printed versions and as downloadable pdfs (click here to view our patterns). So even if you're not planning to join in with our KAL, you may enjoy browsing our collection.
We hope to see you over in Frankie's Ravelry group for the KAL!