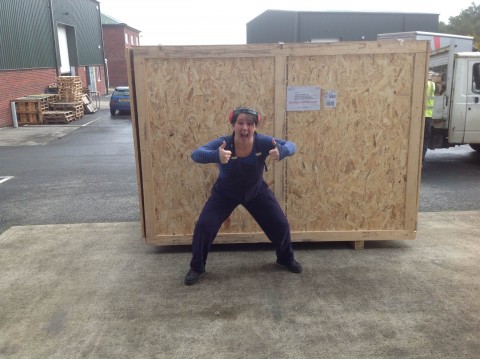 Last week was a flurry of organising and tidying in the Mill before the arrival of two special Italians! One was human, and one, not so much.
So, without further ado, let us introduce you to out newest member of the team… GINO! He is the non-human Italian and is our first ever brand new piece of machinery (all the others being 2nd hand and re-furbished). Gino is a lovely and shiny new cone winder. He goes super fast and is very clever. And he came with the human Italian – an engineer who came to install Gino for us and teach us all the finer points on how to use him to his utmost! We have let the human go now (thanks Massimo!) and Gino is now settling in quite nicely.
So, here are some photos of him being moved into his new home.
But, never fear, Rupert Lee (our current cone winder) has been temporarily retired (but only for a sabbatical) until John gives him the spruce, polish and detailed re-furb he deserves. He will back with us, all systems go, before we know it!