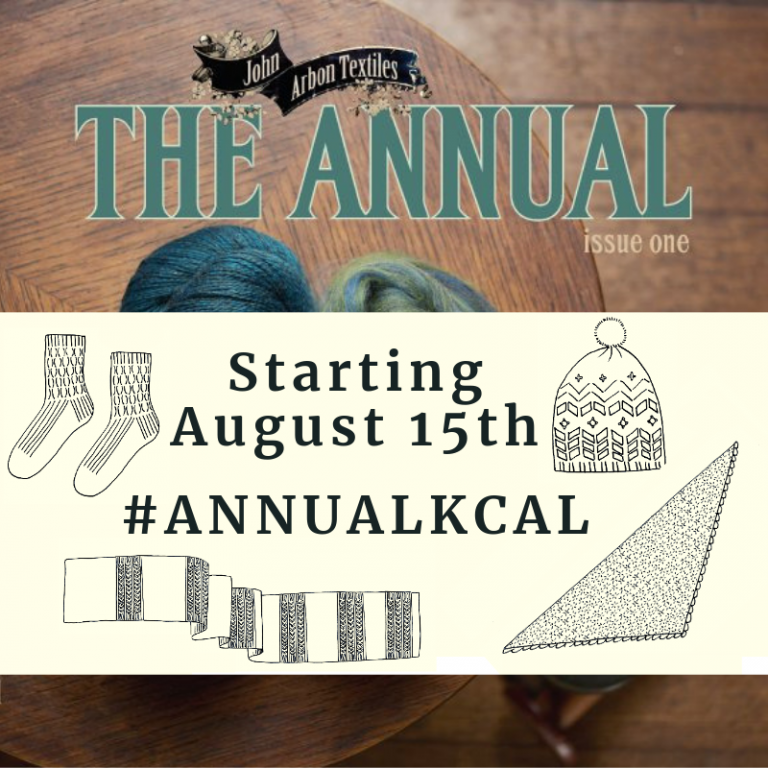 Our Annual (issue one) has been out for a few months now and we're so thrilled with all your excitement and enthusiasm and support for this new venture. This publication is not only a nod to the Annuals of our childhood with articles on our Mill and activity pages, but also features four glorious exclusive patterns. So we thought what better way to kick off August than with a KCAL?! The Annual pattern designers will be joining us in hosting this over in our Ravelry Group (read on for more info and KCAL rules).
It has started to get rather chilly and a little rainy at the moment – Autumn is starting to peak over the horizon, so it feels like the ideal time to whip up a few woolly accessories.
The Annual features four exclusive patterns which are designed by a few of our favourite designers. Some give two different yarn options – we love the effect of each yarn in the designs! And each pattern is named after one of John's trusty and much loved Mill machines.
Above you will see Fay's glorious Drucilla shawl – this delicate crochet shawl can be worked in either Alpaca 2-3ply or in Devonia 4ply. Sonja's playful colourwork hat, Boyd, has been knitted in both Exmoor Zwartbles DK (with a KBN mini to add a splash of colour) or in Viola DK for a rich and complex blend of shades. 
Below is Frankie's slip stitch scarf, Cuthbert, in Knit by Numbers 4ply mini skeins, she also designed a two tone Harvest Hues version. And we've got a splendid pair of socks designed by Rachel, in our glorious new Exmoor Sock yarn, Chapman. 
We love them all, so we're feeling rather spoiled for choice about which item to cast on first. What a treat! So without further ado, we'd love to invite you to join in with our #AnnualKCAL. We and all the designers will be hosting this KCAL over on our Ravelry Group and also on Instagram using the #ANNUALKCAL hashtag. It'll be great fun choosing colour combos and having a jolly good old woolly natter whilst we knit and crochet along.
When does the KAL start?  15th August, 2019
When does it end?  15th November, 2019
What patterns can I knit?  All the four patterns in the Annual are eligible: Boyd Hat, Drucilla Shawl, Chapman Socks and Cuthbert Scarf
Where do I get in on the chat about the #ANNUALKCAL?  

A chatter thread is being hosted by us and the designers on Ravelry in the John Arbon Textiles Group.  On Instagram you can also use #ANNUALKCAL for KCAL chatter and also tag each individual pattern so that your gorgeous makes will continue to be seen long after the KCAL is done and dusted.

Where do I post my FO? There will be an FO thread on Ravelry and you can also use #ANNUALKCALFO on Instagram. If you post in both locations, you double your chance of winning a prize!
I've already started an Annual project… brilliant! Of course you're more than welcome to join in.
What will the prizes be? Three lucky folks will win some JAT yarn (in the colour of their choosing) to make another one of the Annual patterns.
Do I have to use John Arbon Textiles yarn? You're more than welcome to use stash if you fancy, but it is a great opportunity to try get some JAT on your needles & hooks!
Can I double dip with other KALs? Absolutely. Double dip, triple dip, quadruple dip away…
Is there pattern support available during the KAL?  Yes there is.  All designers will be on hand and happy to answer any queries about techniques.
So, that's all for now… we're off to rummage about on the shelves and see what colour combinations we can cook up for those fandabulous patterns. We love a good old KCAL, so can't wait to get started in a few days time!
And click here to head over to Ravelry and join in with our KAL! 😉