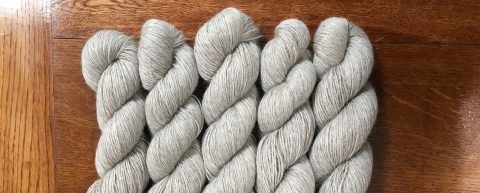 Hello Mill Members!
The snow has now subsided here in North Devon, and to celebrate we have lots of new treats for you on your Secret Mill Members page… from special limited edition Tops to new shades of Yarn, there should be something to tickle everyones fancy!
We are very happy to present the 2nd of our limited edition specials John has made in conjunction with Andrew Bowman of Wooltops, supplier of beautiful fibre and wholesale white yarns. We have simply called it Corriedale Alpaca as it is a glorious blend of white and brown Corriedale, with Alpaca. It has been produced at our Mill by John who has collaborated on this project with Andrew who supplies us with our wonderful sheep breed fibres. Both the white and brown Corriedales are from the Falklands where the sheep are reared in environmentally clean and green conditions.
The blended fibre is a beautiful natural creamy grey fawn colour and would make a wonderful base for dying. Whilst the Corriedale has great crimp, felts easily and has a courser handle, the Alpaca adds drape and silkiness to the blend. So shiny and elegant.
The Corriedale Alpaca is an exclusive limited edition run of Yarn in fingering, 400m per 100g. It is available retail from us to Mill Members and also wholesale from Andrew @ Wooltops
We have also made this blend up as a Top, available as a limited run via the Mill Members page.
Next to welcome into the fold is our latest Knit By Numbers shade – Copper – previously known as Burnt Orange in Top form, but we decided the shade is similar to a new penny when it has been spun. We have blended spun it at the Mill into our usual 6 gradient shades, and it is now available in both 4ply and DK! They are being made exclusive to you members for a few weeks until they are released on our main website.
In Tops land we would like to introduce you to Deep Purple, with Thin Lizzy as support. Both are new limited edition Devonia colours – one a gorgeous blend with pinky purple hues, and the other a dreamy blend with greeny blue overtones. The usual composition of 50% Exmoor Blueface, 30% Devon Bluefaced Leicester, 20% Devon Wensleydale is one of our all time favourites, so it's always a pleasure to make and share new colours.
Rightio, thats all for now re: Mill Member updates. We are starting to get ready for our trip to Scotland – we are at Edinburgh Yarn Festival next week so all is a whirling dervish at the Mill in preparation … we will share more info about what we are taking on the blog next week…