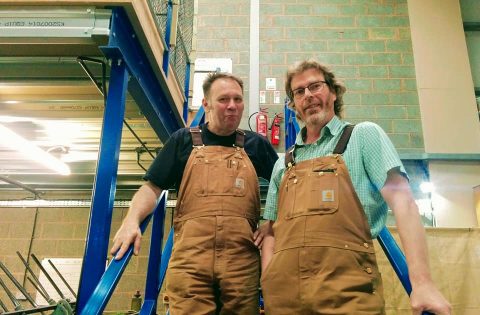 Wow, we had a fabulous and amazing Mill Open Weekend last weekend!
Thank you so much to everyone who came to visit us at the Mill where all our woolly magic happens! We hope you had a splendid time – we all did. It's such a pleasure to meet all you wonderful fibre folk, to give you tours of our Mill and show you behind the fluffy scenes into the heart of our spinning machines, cogs and mechanics!

For those who couldn't make it we can share little snippets of the weekend's antics … We had a fibre island of over 80 different Tops and colour blends. John gave tours of the Mill each day and shared his yarny spinning secrets to lots of interested folk – talking about how we spin and make yarn at the Mill, alongside telling the odd joke (sorry) and eating a few slices of cake. Then one of our newest team members, Phil, explained the second half of the yarny process (which takes place upstairs at the Mill, on the mezzanine). Meanwhile the rest of the team were busily assisting with Tops and Yarn and Socks, and serving (and devouring) cake and tea too! Whilst the wonderful Brenda and Jean were spinning away on their wheels.
The awesome mill team on Tops!
Natasha looking proud with her mini skeins!
Tours being conducted!
Brenda and Jean joined by more spinning friends.
We had our brand new Devonia range in DK making its debut appearance – 14 beautiful colours in heathery shades! And accompanying the DK Devonia was a new jumper design called 'Devonia Cream' by our own Francesca Hughes, (you can find the pattern for the cabled textured jumper in the June issue of Knitting magazine). To order a back issue click here. The jumper will then be available on Frankie's Ravelry Here and our website here towards the end of summer.
Our super cute 4ply KBN mini skeins also had their first outing and it was lots of fun helping select colours, and look at colour combos put together by those who visited! The tiddly little 25g skeins are great for Fairisle and colour work and little baby projects. They are so new that they are not as yet on the website, but will be added to the Secret Mill Members page soon!
We had so many wonderful entries to the 'Show and Tell' raffle (lots of lovely items made from our fibre or yarn) and will share photos of the entries with you in the next few weeks when we announce the winners. But here is a sneak peak of an entry this year named Sybil! She was entered to go with last year's entry, Basil…
Good luck to all those who entered! We will draw your names from a fibre can soon and announce the winners in another blog.
Again, thank you to all those you attended our Mill Open Weekend and thank you for making it such a special couple of days and hope to see you all again next year.
Love John, Juliet & Team XXX