Preparing for Unravel 2017.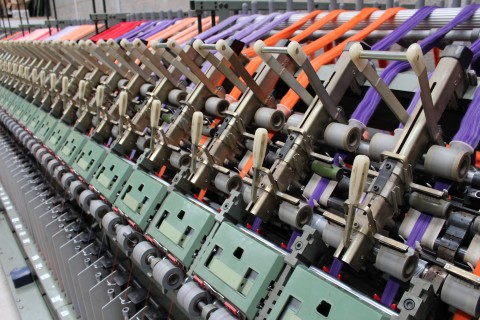 It's February which means its time for the eagerly awaited first show of the year!
Unravel, in Farnham, is a fabulously wonderful show full to the brim of Yarns, Wool and Tops.
You can buy tickets and find more information about it here.
It will be a first for us at Unravel to show off our new cabinets of Knit by Numbers DK and also the 4ply. We have been busy spinning up a fresh batch of the Knit by Numbers in all colours (91 in total!). We can't wait for you to see them all in their glory!
Here are a couple of photos of us whipping it up at the mill….
As well as Knit by Numbers we will have all the normal yarns, including the luxurious Alpaca Supreme, which was featured in Winter 2016 PomPom Magazine used by our very own Frankie in her pattern Lemel.
Be sure also to come along to the live Pom Pom Podcast at Unravel (between 3-4 on Friday) to hear John talking about all things Mill and wool!
Frankie will also be doing a talk (between 1.15-2.20 on Saturday) about her adventure from Acrylic nightmare wearing child to the knitting and wool fanatic and pattern creator she is now.
And we will also be proudly displaying one of Frankie's latest patterns on our stand – 'Guilt Wood' is a beautiful shawl in our very own Harvest Hues.
Behind the scenes at the Mill we are also working hard on Devonia, so keep your eyes peeled for sneaky peaks!
We look forward to seeing you there.