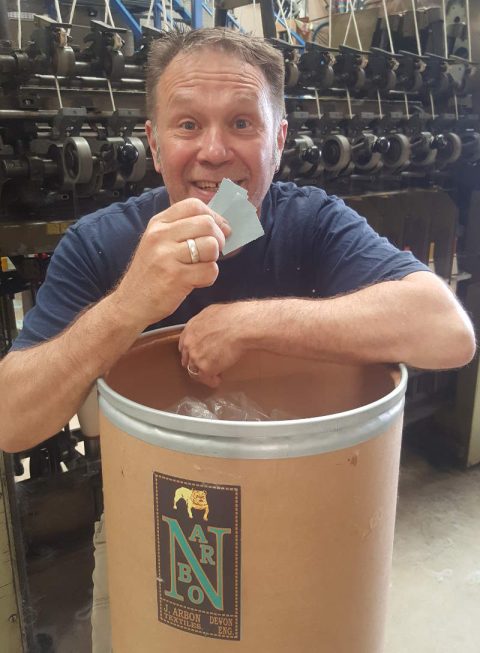 John has now plucked the winners of the lucky dip Mill Open Weekend 2018 'Show & Tell' out of a fibre can!
Good luck to you all!
There are 20 winners in total – 10 from the Saturday and 10 from the Sunday.
So, if you are a lucky winner you will either receive a John Arbon Textiles Mill Membership, or (if you are a Mill Member already) you will win a woolly goody bag of treats! Plus one lucky winner will also receive the new Daughter Of A Shepherd book 'Beginnings' by Rachel Atkinson.
So without further ado.. The winners, in no particular order, are…
164 – This fabulous bobble hat was knit in hand spun Harvest Hues Top in the shade Thistle shade.
163 – Three impressive hand woven scarves in Knit by Numbers 4ply. Love those tassels!
162 – Cute fingerless gloves, knit using hand spun Harvest Hues Bracken with added sparkle!
158 – This beautiful flower was made using Merino / Silk Toot Sweet and Siren Tops, sandwiched between two sheets of dissolvable fabric, then embroidered. Wire was added around the edges to give the flower structure! Isn't it amazing!
169 – This set of mitts and shawl were knit using Viola DK in Nimbus Cloud. The shawl is on larger needles which gives it a super squishy and beautiful drape! I bet you cant wait for cooler weather!
167 – Hand spun Alpaca / Polwarth Fibre in Humbug shade. Spun into a 2ply. So even!
166 – This beautiful tunic was crocheted using our heavy laceweight Alpaca 2-3ply. The details of the gold beads on the hand made buttons make it so special!
165 – This number had a few entires! Amongst some fab experimental hand spinning is this Merino / Silk blend shawl. Hand spun into a lace weight, then knit. Its stunning!
157 – Excelana cabled tabard knit using yarn she bought at our 2016 Mill Open Weekend and an old vintage pattern! – We loved the whole outfit.
154 – These shawls are both hand woven using natural plant dyed hand spun yarns. Privet & Hibiscus were used for these. The colours you can get from natural dyes are stunning.
143 – Gorgeous hand knit jumper 'Vellamo' using Devonia 4ply. We adore this especially as the pattern is by our lovely Francesca Hughes. Entered with a few other fabulous garments and accessories all knit in our yarns, or Rachels latest Daughter of a Shepherd yarn – Ram Jam.
137 – Stunning textile book, with under the sea pages. The huge amount of work thats gone into this project is evident! Tiny shells, beads and hand stitched embroidery on every page.
136 – Sampler Scarf knitted in Knit by Numbers DK. Hot pink! And a little to hot for the Mill Open Weekend. But gorgeous.
132 – Herb Garden Shawl – Which was fantastically hand spun and hand knitted all from Broken Tops bags!
129 – A splendid collection of hand spun Fibre Tops! Some hand dyed, some marled and all beautifully fine and even!
127 – Pavement Sweater by Veera Valimaki, knit using our Wensleydale 4ply which was a super special limited edition yarn this lady bought at Edinburgh Yarn Festival last year! We love that yarn so much.
126 – Shawl knitted using our Exmoor Zwartbles yarn, showing off all three of the gradient colours.
124 – Exmoor / Silk / Merino hand spun Fibre, crocheted into a gorgeous shiny shawl.
123 – Fabulous hand knit dragon scarf. Created by the owner, we love this playful and clever number. look at those adorable paws!
121 – Beautiful selection of hand spun yarns using lots of our limited edition Fibre Tops. And a hand spun crocheted scarf on the side.
Well that's it for this year folks … these all the winners our Mill Open Weekend 'Show & Tell' Lucky Dip 2018.
Thank you all for bringing your wares along to share with us and we hope to see more projects at next year's Mill Open Weekend … we will be sharing the dates very soon so you can get it in your diary!