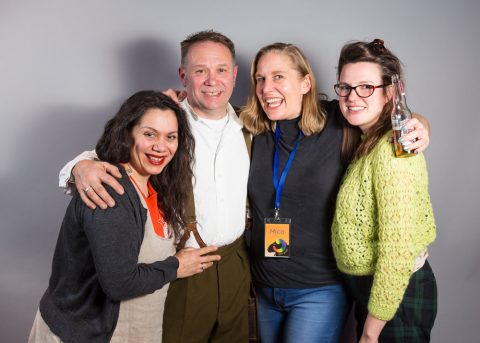 We are now catching up spinning yarn after so much went to new homes at Edinburgh Yarn Festival. Wow, what an amazing show.
We would like to thank Jo and Mica for putting on such a great event and being such good dance partners! We had a ball at the Ceilidh – we danced as much as our little feets allowed – not also the correct steps I suspect, but we were full of enthusiasm!
A photo of us and Mica from the Ceilidh, full of food, beer, and cheer. by Malena Persson.

The show itself was amazing and we were once again blown away by how many people came from all the corners of the earth. We got to meet so many of our international customers and introduce them to a fabulous amount of British Wool.
Here are some photos of our stand before we opened the flood gates…


Of course the star of our show, was our brand new yarn Devonia in 4ply – it seemed to go down very well and there was lots of stroking, fondling and sniffing.


We can't wait to see the things people make with this – it is a rather special yarn to us.


And, for those Mill Members, the Devonia 4ply and some of the Tops are now available on the secret Mill Members page on our website. They will then be moved to the main pages at the end of this month.


The next outing for the Devonia 4ply and Tops (and all our other yarns and fibre blends) will be Wonderwool Wales, towards the end of April.
And meanwhile, Frankie (Francesca Hughes) is enjoying watching your projects come along on Ravelry, especially those of you who are working on the Sweet Clementine and Gilt Wood shawl patterns.
Frankie is currently working on getting her pattern for the Dark Zwartbles cardigan all up to scratch, lots of you were interested so we shall keep you updated!
Rightio, that's enough yarn fumes for a Tuesday morning, more info about Wonderwool Wales and our Mill Open Weekend in June coming soon!