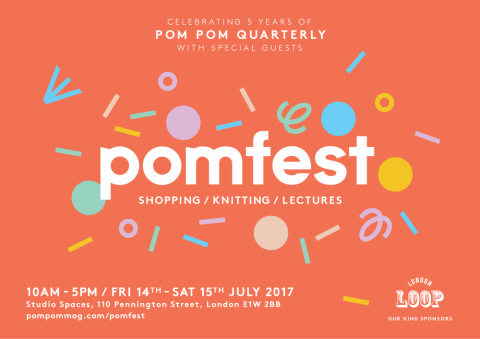 Firstly, thank you to the amazing women at PomPom Quarterly for hosting such a wonderful weekend and congratulations on celebrating your 5 year anniversary. And thank you for hosting such inspirational talks and bringing together so many amazing people.

We managed to pop into a few talks between us, highlights include Emily Foden of Viola giving us a beautiful insight into where she finds her colour inspiration and the amazing work she has done since she left us in England a couple of years ago… you can find out more about Emily here.
Also the group panel discussion hosted by Anna Maltz gave us an insight as to how the industry has changed over the last five years since PomPom was born and also views on where it might be heading.
As well as all things woolly it was a pleasure to dance at the party (with our very own John Arbon at the decks), drink good coffee, eat splendid humous and listen to a live podcast!
Our super cute Knit by Numbers 4ply mini skiens were widely adored and there were all sorts of colour combos being played with from simple gradients to some wild accents! They now live in a vintage wooden apple crate with each drawer revealing another colour gradient.

The KBN 4ply mini skiens will be avialable on the secret Mill Members page towards the end of the month – do not worry, we will send out an email to let you know exactly when! You can find out more about Mill Membership here.
The minis will then be available on the main pages in the next couple of months.
Meanwhile, a new run of Devonia DK and 4ply has just been completed and all the shades are now back available on the website, find them here.
We look forward to seeing you on our next outing to Fibre East in a couple of weeks! More info soon!