Thank you Edinburgh Yarn Festival!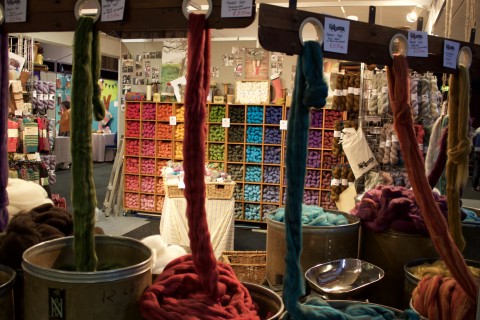 We have now landed back to reality after a spectacular woolly show in Edinburgh followed by a few days exploring the beautiful city!
Edinburgh Yarn Festival was a roaring success and we had an amazing time. Thank you again Jo & Mica for putting on such a fab event, and to add to the fun was the Ceilidh – an evening of traditional Scottish dancing and music (a splendid night of fun, frolics and many an interesting dance move from exhibotors and visitors alike).
If you were not able to make it to the show here are a few pics of our stand!
We had a great space and were able to set our Fibre & Tops out like a sweet shop! We had added Corino and Perrendale to our collection of natural white fibre, and these all sat happily alongside the colourful Harvest Hues range, and Merino / Silk blends.
It was great to see so many people picking up the art of spinning and to chat to lots of people who were heading off to a drop spindle class, or just going for it and trying to spin! I hope you have all had success and are now happily spinning away!
We were also very happy to chat to so many international craft lovers who attended the show from far and wide! We met people from all over the world!
Now we are back at the Mill and are busily getting lots more Knit By Numbers spun ready for Wonderwool Wales in just a few weeks time … this is our next stop and the grand unveiling of Knit By Numbers 4-ply! Phew!
We will also be giving out more information very soon about this years Mill Open Weekend in May! Stay tuned!
The John Arbon Team X