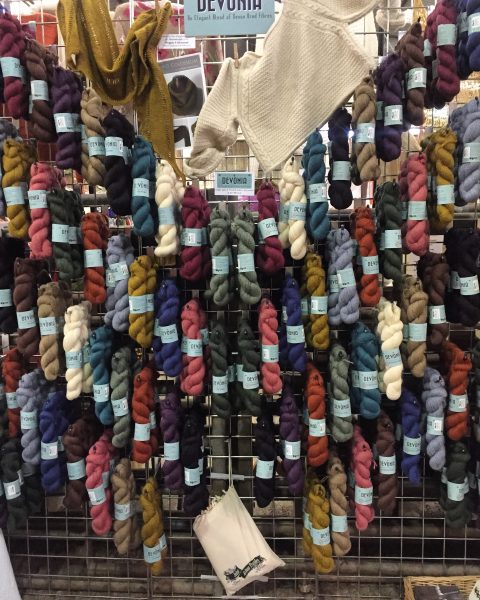 A few weekends ago we were in Skipton, for Yarndale. We had a fab time, thank you for having us.
As always we had our show case of Knit by Numbers in DK and 4ply. We also had our new super cute 4ply mini skeins. We so enjoyed helping mixing and matching colours for Fairisle projects and gradient sets.
Many of you bought along your finished projects to show us. Here are the ones we got snaps of…
Look at this amazing Fair Isle work, showing the huge potential of the Knit by Numbers 4ply Mini Skiens.
Gorgeous lace work, Frankie's pattern Sweet Clementine, knit using Alpaca 2-3ply heavy lace. 
Killtocrafts's Quadrillion by Meghan Fernandes using John Arbon Viola Merino DK. It looks so cosy!
Jacinta Bowie wearing her beautiful crochet Catherine Wheel Shawl crocheted using our Exmoor Zwartbles DK yarn,
How talented are you lot! We love seeing your finished projects.
John was head of Tops island where we had lots of special blends and one offs! If you are a mill member keep an eye on your secret page for the ones that came home with us!
The next show we will be at is Nottingham Yarn Expo. More info and sneaky peaks soon!
But in the meantime, we are nipping off to the East Sussex Guild to their yearly 2 day exhibition and little show … it is at Lewes Town Hall on Fri 27th (10am til 5pm) and Sat 28th (10am til 4pm) October. There will be an exhibition, some trade stands, refreshments and some hands-on activities (admission £4). John and Frankie will be there with a small trade stand offering a few goodies. So if you are in the area do pop in for a woolly fix!