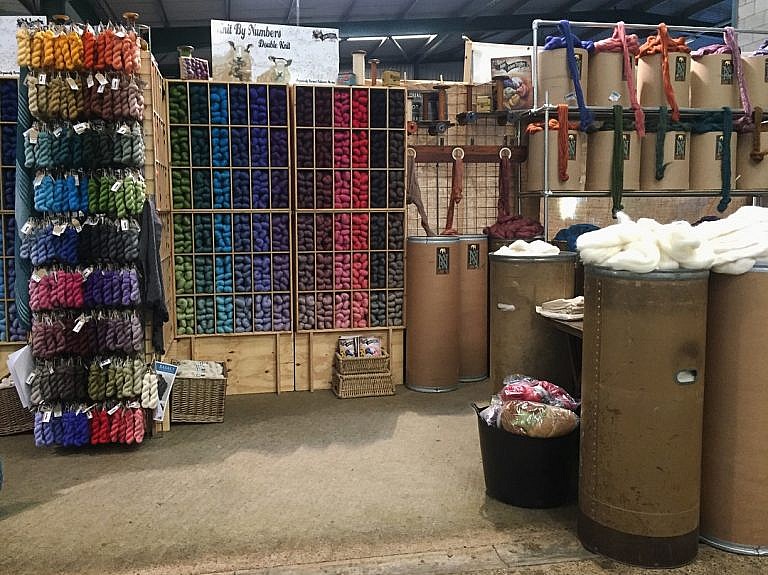 We spent the weekend up at Woolfest, chatting to lovely folk and inhaling the yarn and fibre fumes. Thank you so much to everyone who stopped by our stand, we had a blast. It was a wonderfully sunny weekend up in Cumbria and a splendid drive through the beautiful countryside – and we even managed to fit in two World Cup matches on the way up!
We had all our usual goodies on display, with an abundance of delightful yarn and tops.
There was such a lot of tops enthusiasm for our silk blends (pictured below) and our brand new limited edition Harvest Hues shades – a sneaky peak of these new shades is currently available in Mill Member's land.
We also had a bountiful display of undyed tops in many different breeds from our oh so local Exmoor Blueface to luxurious and bouncy Corriedale. Yum! But by far the two most popular limited edition Tops blends of the show were Bazaar (bottom left) and Mr. Smoke (bottom right).  Bazaar is a punchy blend of oranges, fiery reds and purples (40% Organically Farmed Falklands Merino, 20% Brown Corriedale, 20% Scottish Down Cross and 20% Mulberry Silk) inspired by sun-drenched Moroccan spice markets. Where as Mr. Smoke (40% Grey Alpaca, 40% Organically Farmed Falklands Merino and 20% Mulberry Silk) is pure elegance and sophistication, named after John and Juliet's much loved cat, this blend hovers between grey and blue just like Mr. Smoke's fur. These two beauties couldn't be more polar opposite, but we love them both!
If you couldn't make it to Woolfest this year then don't be glum, because we're chuffed to say that both Bazaar and Mr. Smoke will be available on the secret Mill Members page over the next few weeks… so keep an eye out for more info!
And we would like to thank Helle and Pia who visited Woolfest all the way from Denmark where they live.  They loved Mr Smoke so much that they spent Saturday evening busy with their drop spindles – not only did they spin it up but also knitted a gorgeous sample which they kindly came to show us Sunday morning (photo above).  Thank you kindly.
But it was by no means all about the tops – we had many talented knitters and crocheters visit our stand too. It was rather toasty in the auction mart on the Friday, but Suzie still kindly brought along her beautiful Surge Shawl, designed by Lisa Mutch. Blah knitted her version in the two blue shades of Devonia 4-ply, Snow Ash and Dark Skies. Her shawl was so springy and light with the most delicate halo of longwool fibres – simply divine!
There were such a lot of gorgeous colour combinations being picked by the folk on our Woolfest stand. It is always a delight to see the shades people pick and put together – we love seeing everyone's different take on a colour palette!
It is always such a joy to watch as people select from our wall of Knit by Numbers mini skeins – a marvelous inspiration. On Saturday two lovely ladies popped by who were each selecting shades for a True Colours Shawl by Melanie Berg. How gorgeous (and very different) are their selections below?!
One very talented lady, Claire, even had a hat made from her own hand spun! Here she is with John, kindly modeling her beautiful cabled beanie, which started life as our Harvest Hues Tops in pomegranate.  Thank you for bringing it along for us to see!
As we don't have a dog of our own – we couldn't do that to Mr. Smoke –  we love meeting all the marvelous pooches who come to any show and Woolfest was no exception! We couldn't resist turning our stand into a bit of a puppy pageant. Here are 3 of our favourites (from the top left clockwise) – Phoebe the standard long-haired Dachshund, Maisie the Border Terrier and Flora the chocolate Lab…
Thanks so much to all who popped by the stand, whether you bought your canine companion or not. It is always wonderful to get out of the mill and visit our lovely customers. Until the next show!