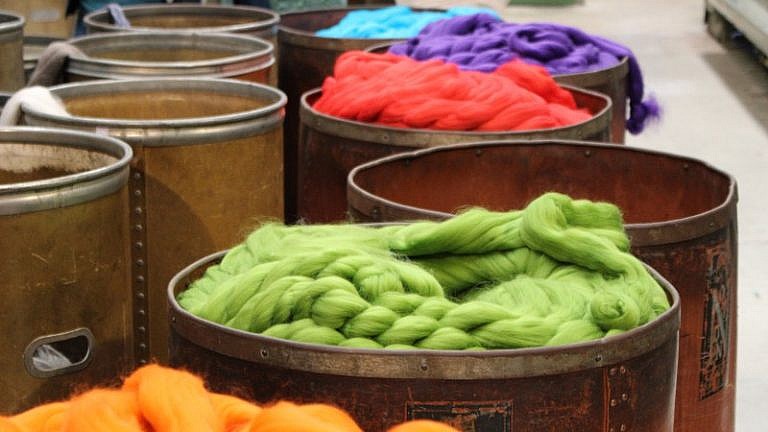 John and the Mill folk are at this moment prepping for Fibre East – which means whipping up oodles of delectable tops (to accompany our yarns). This show, more than any other, is much about the tops – which we love… John has loaded up his woolly tubs of joy, so there'll be enough fluff to go round! And, as always before a show, we're looking forward to having a good ol' woolly natter with lots of splendid folk.
We'll be bringing many gorgeous Tops blends with Silk, from the delicate and sophisticated Neptune (bottom left) to the playful riot of blues and greens that is Atlantis (bottom right). We are also taking along our two new specials Mr. Smoke and Bazaar so if you are not a Mill Member, then this may just be your first opportunity to snaffle some up!
We'll also have our bouncy and beguiling new Harvest Hues Tops shades. Our Harvest Hues Tops are the ideal combo of luxurious, soft organically farmed Falkland's Merino and springy Devon Zwartbles. This blend has a little more grip and bounce than our pure Merino Tops, plus the naturally dark chocolate Zwartbles fibre adds some serious depth to the shades! We've added a few delicate warm tones and two punchy brights.
We always bring plenty of one offs and limited edition Tops to the show. But Fibre East is super special because we'll be taking a custom blend created in honour of BritSpin. We are not revealing anything about this Tops blend here, but look out on Instagram, as all will be unveiled there in the next couple of days.
As some of you know, the British Wool Spinning Marathon (or BritSpin) is a 4 day challenge event taking place from 11th to 14th October 2018. The participants spin up as much yarn as possible during the challenge. All the proceeds go to the UK Accossiation of Air Ambulances and it is a wonderful way of highlighting the many varieties and joys of British wool. We're chuffed to be sponsoring two teams this year: the Arbonites and the Arbonistas (more info about both nearer the time).
It will by no means be all about the Tops on our stand… We'll have our usual array of gorgeous yarns … from our splendidly colourful wall of Knit by Numbers (along with their mini skein friends) to our lustrous Devonia and delicately flecked Viola DK.
Our Alpaca 2-3ply will be on display. This lace weight comes in a range of bright jewel tones and has a delicate drape and is wonderfully soft. Just two skeins is enough to make the Sweet Clementine shawl (pictured below) designed by Frankie Hughes.
Many of you won't have met Jack before. He is one of the folk who work at the Mill (you can see him setting up Kevin in the picture below). Anyway, we're very pleased to let you know that he'll be coming with us to Fibre East for the first time and popping his yarn show cherry.
Jack's a massive curry fan too (this is one of the many qualities we look for when hiring folk!) so we're sure he'll love Bedford… We've no doubt it will be a joyful thing for him to meet so many lovely fibre folk and see the magical things that happen with the Yarn and Tops he helps create once they leave our Mill. Please be gentle with him!
Keep your eyes peeled on our socials over the next few days for a few more sneak peaks of the special Tops we'll be bringing with us!
You can find out more info about Fibre East here.
Address:
Redborne Upper School and Community College
Flitwick Road
Ampthill
Bedford
MK45 2NU
Opening Times:
Saturday 29 July – 10:00 – 17:00
Sunday 30 July – 10:00 – 16:30