We are back from Woolfest!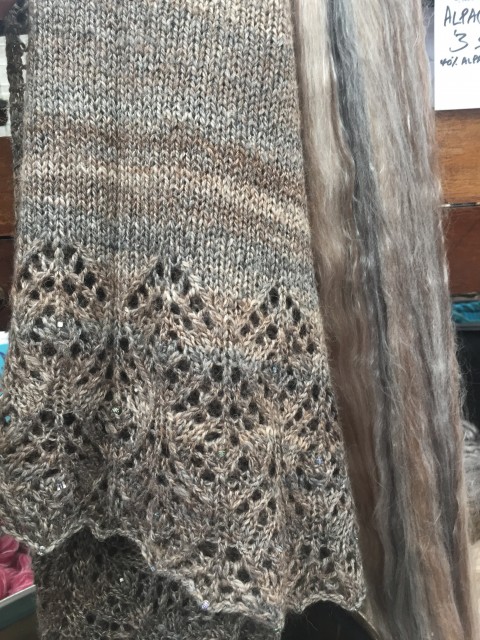 We are now back and all unpacked from Woolfest 2016.
We had a lovely time and always enjoy our visit to the lakes! (Even though Belle, the podgy dog who lives at the lovely smallholding we stay at, ate Frankie's sandwich!)
Our new Knit by Numbers 4ply (which you can now find here) stood tall and proud as the newest member of the family, along side the double knit range … 91 different tonal Merino shades in each count of yarn. We are always super impressed by how organised you knitters out there are bringing along patterns to match up with yarns and had so much fun helping you choose colours from the 4ply range to fulfill fair isle patterns.

Thank you to everyone who came to see us at our stand, especially the lovely ladies who bring cake to share and knitted things to show!
John fell in love with this beautifully hand spun and hand knitted cardigan and couldn't resist a silly photo with the maker…

Christine, an awesome regular brought along her hand spun and hand knitted 'Three Supremes' shawl, modelled by Frankie (who is encouraging John to spin it for real into a yarn for us all to try)


If you couldn't make it to Woolfest, here are some photos of our stand this year….

Next stop, Fibre East on Sat. 30th July – Sun. 31st July 2016, (Saturday 10:00-17:00, Sunday 10:00-16:30) at Ampthill | Bedfordshire | MK45 2NU