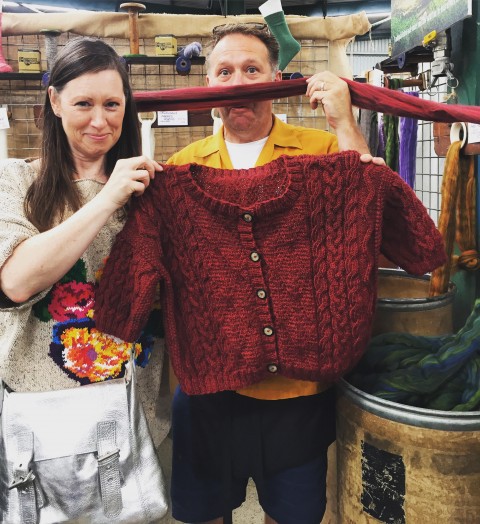 We are back safe and sound from Woolfest 2017! Thank you for having us and thank you to all that came to our stand.
We were visited by a lovely lady named Alison who came along last year with an amazing hand spun and hand knitted Harvest Hues (Merino / Zwartbles blend) cardigan in Pomegranate



This year she came back with a hand spun and hand knitted jumper in Toot Sweet, Merino / Silk top blend. It is so beautiful!


We were also lucky enough to be visited by a wonderful dog named Tetley – a fabulous mix of Beagle, Poodle AND Grand Basset Griffon Vendeen. Woah! Tetley you are indeed a 'Top Dog'!
Amongst all the splendid top blends and yarn ranges we took along to Woolfest, it was the first outing at a show of our new super cute mini skeins of Knit by Numbers in 4ply weight. It's so much fun to see the colour combos people put together and they will be going on the website very soon … we will keep you posted! Here are a couple of photos incase you didn't make it!


Captured there is Frankies 'Gilt Wood Shawl' which you can find on our website here and Ravelry here. It uses our lovely Harvest Hues 4ply!
Rightio, we must finish unpacking … and then start to look at packing again soon. We will be at Pomfest and Fibre East next month, stay tuned for more information.