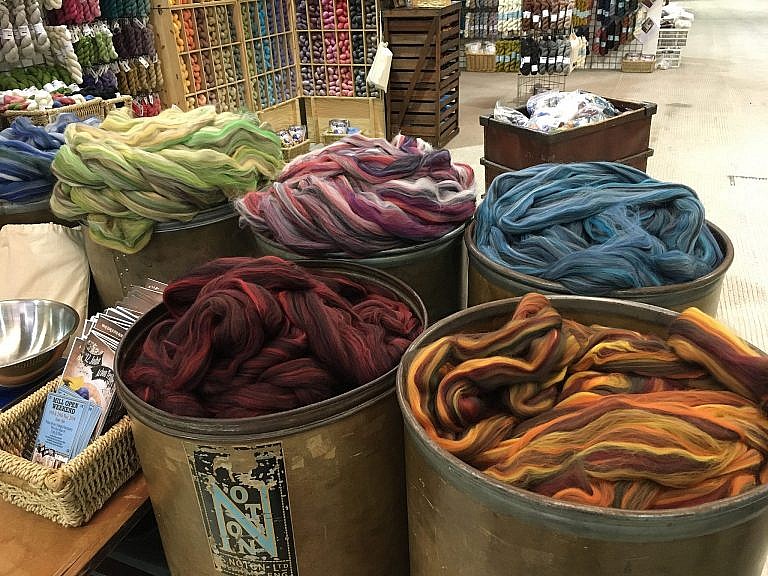 With Woolfest now just around the corner we are busy filling our shelves and cans with gorgeous woolly goodies.
We will have our normal glorious array of colours, including Harvest Hues, Devonia, Viola and Alpaca 2-3 ply.
Of course, our rainbow of Knit by Numbers in both 4ply and DK will be coming. And this year, for the first time at Woolfest, we will be displaying the KBN Minis in both DK and 4ply too! This is where all your colour work dreams will come true…
Fibre will be a plenty, with lots and lots of colours to fondle … from Local Exmoor breeds in natural shades to the glorious Merino / Zwartbles blend that are our Harvest Hues autumnal shades.
And, of course, John and the team at the Mill are whipping up some surprise blends and colours as well to take along as part of Tops Tower.
We are looking forward to the picturesque surroundings of the beautiful hills and vales of Cumbria.
And, of course, we cannot wait to be able to pet an animal or two! To scratch the nose of a Herdy, or tickle the belly of a friendly passing dog – like this oh so friendly one who visited our stand last year…
You can find out more information about Woolfest here. We will be in aisle D at the café end as usual.
Woolfest 2018 | Friday 22nd (10am – 6pm) &Saturday 23rd June 2018 (10am – 5pm)
Mitchells Lakeland Livestock Centre | Cockermouth | Cumbria | CA13 0QQ.
See you next weekend!