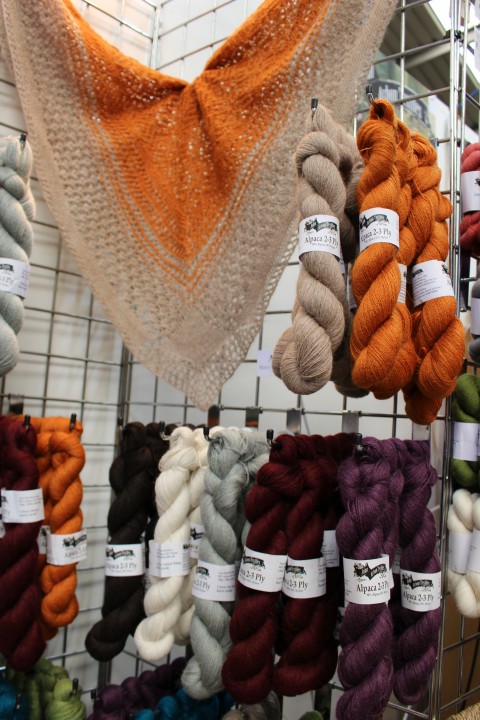 Here we are again packing for our next show, WOOLFEST on the 24th & 25th June at Mitchell's Lakeland livestock centre in Cockermouth, Cumbria! Sorting through all our yarns and deciding what tops we can squeeze into the van!
Woolfest is one of the more intimate and cosy woolly shows but, don't worry, we will be bringing along lots of yarn and tops including our new Knit by Numbers 4ply yarn in the entire range! It looks magnificent side by side with the Double Knit range. If you haven't noticed already the KBN 4ply range is on your secret mill members page, which you only have access to if you are a mill member. If not, we shall be making the 4ply range avaliable to everyone on the main website on our return from the show!
It is now only one week before we head up to beautiful Cumbria and settle into the Cattle market for the Friday and Saturday of yarny craziness. You can find us at stall D77 to 79. We are also very excited to stay in our lovely caravan and see Belle the naughty dog again (she eats everything and anything that she can get to, but is a happy, friendly, if a little round, little soul!)
Yarns we will be bringing along include Harvest Hues, the wonderful fingering weight yarn in rustic colours made from a blend of Merino and Zwartbles. Alpaca 2-3ply, a heavy lace weight yarn which is gorgeous to knit with and perfect for lace knitting with its amazing stitch definition. Plus beautifully sumptuous Viola DK, which knits up as a wonderful accompaniment to our KBN DK (being the same count and blend of Merino). Along with our Exmoor Sock Yarn, Alpaca Supreme, Merino Laceweight, Zwartbles and lots more too.
Plus we will be bringing along some new and limited edition colours of our Stanbury Walker socks (as seen on Countryfile earlier in the year). These are again only available on the website on our secret mill members page (to mill members) – they have only just gone up there. But, they will also be available to all and the everyday pages of the website in early July.
Here are some photos of what to expect!


We look forward to seeing you as always for some fabulous chats about all things woolly!
John and the team X