20th Anniversary Craft-A-Long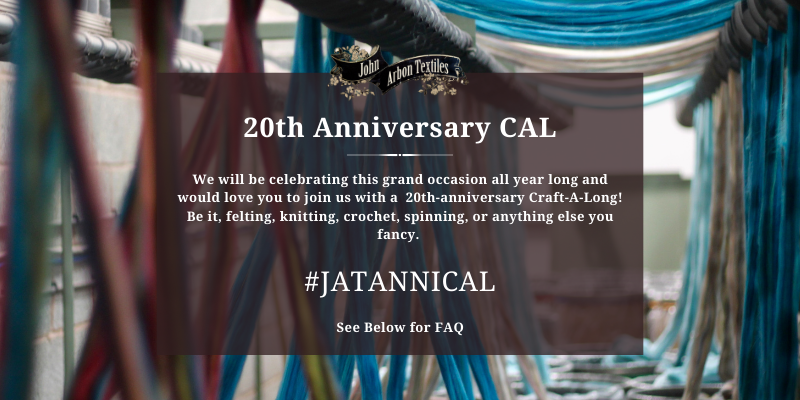 All year long we will be continuing to celebrate our 20th Anniversary – these big anniversaries only come round once in a decade, so best make the most of it when they do arrive, we reckons!
We would love you to join us with a  celebratory Craft-A-Long! Be it felting, knitting, crochet, spinning, or anything else you fancy. We encourage you to delve deep into that stash for some vintage JAT and take a trip down memory lane with us. Or, if you are as excited about them as we are, use up your swanky new 20th Anniversary specials straight away. Any and all JAT yarn and tops are welcome and we are so looking forward to hearing the story of how you acquired those woolly delights and seeing your creation come to life too of course! There are no rules for Finished Objects, just make whatever tickles your fancy.
It was wonderful reminiscing with you all at our MOW and we would love to do the same with this CAL. Our Frankie will be hosting this CAL and lots of us other Mill Folks will be popping up for a natter too.
Events: 
Tuesday 27th July – 3pm: Insta Live: Join Frankie, Sonja and a few other Mill Folk to hear all about the CAL and hear what they are planning on making. They've found some vintage JAT in their stashes that they are going to set free! If you are struggling to find a project then they'll be on hand to help.
Tuesday 3rd August – 5pm to 6:30pm: Zoom: Join Frankie and the rest of the Mill Folk for a Cast On party. Show us what you are making, we would love to hear! This craft and natter session will be really fun and informal and held on zoom (like our MOW sessions). Click Here to sign up – its free
Every first Tuesday of the month, for the rest of the year we will be gathering on Zoom for a Craft and Natter session. We are so looking forward to having a bit of a natter and seeing your fab projects progress. We reckon it will be an absolute treat and hope you'll join us!

Click Here to sign up for all the Craft and Natter Sessions via Eventbrite! Not all of these sessions are listed on Eventbrite yet as we want to make sure we choose a time which works best for those folks joining in. We will add the rest after the Cast On Party.
CAL FAQ:

When does the CAL start? 3rd August, 2021 – click here to sign up to the cast on party!
When does the CAL end? 20th December, 2021
Where do I get in on the chat about the #JATANNICAL? A chatter thread is being hosted by Frankie and the rest of the Mill folk on Ravelry in the John Arbon Textiles Group. On Insta you can also use the #JATANNICAL for CAL chatter and also tag us so we make sure to find it.
How do I hang out with you on Zoom for the Craft and Natter sessions? Click this link here to sign up on Eventbrite. Then you'll be emailed a Zoom link closer to the time.
When are the Craft and Natter Sessions? These will be on the first Tuesday of every month.
Where do I post my FO? There will be an FO thread on Ravelry and you can also use the #JATANNICALFO on Instagram. If you post in both locations, you'll double your chance of winning a prize.
I've already started a JAT project… Brilliant! Of course, you're still more than welcome to join in.
What will the prizes be? Three lucky folks will win a selection of our 20th Anniversary specials.
Do I have to use JAT yarn and / or fibre? On this occasion yes please, to help us celebrate our 20th anniversary, however vintage JAT from the deepest darkest corners of your stash is encouraged. We would love to see it and hear the story of when and how you aquired it! We know we have some to use up ourselves..
Can I double dip with other CALs? Absolutely. Dip, dip, dip away..