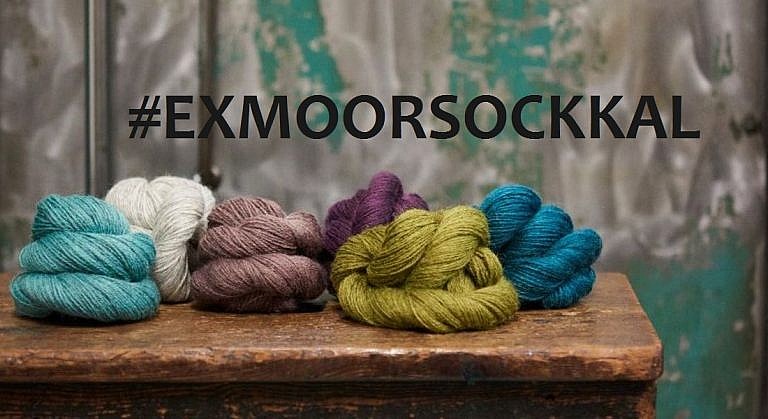 Our re-vamped Exmoor Sock Yarn has landed and we're so thrilled with all your excitement and enthusiasm and support for this new woolly treat. To accompany the yarn, we have launched 6 glorious new patterns created by splendid indie designers. So we thought what better way to celebrate the launch of this scrumptious yarn and abundance of glorious patterns than with a KAL! All designers will be joining us in hosting this over in our Ravelry Group (read on for more info and KAL rules).
It is rather chilly at the moment, so it feels like the ideal time to whip up a few pairs of socks and gloves to keep those finger's and toes nice and cosy.
To go with our shiny new yarn range, we have gathered together oodles of gorgeous patterns to choose from if you're itching to cast on and participate in our KAL.
Sonja has created a simple yet playful striped pattern, Sanseveria  (see above), if you reverse the shades then just three skeins of yarn will make two pairs of socks! Nataliya has whipped up a pair of geometric stranded colourwork socks, Lost in Sherwood (see above). She has used colours with quite a high contrast, but we think two more similar shades would be equally lovely too. Meanwhile Alice has designed the Gavl Socks (also above), with elegant twisted rib and cable details!
Rebekka's Eruca Socks (see below) come in sizes for both small folk and large, with a caterpillar inspired stripe sequence. Whilst Aleks' Lidden Gloves (see below) are pure elegance, with delicate travelling stitches and intricate colourwork cuff! Finally, last but not least, Francesca has created these graphic, modern textured socks, Gallivant (also below), in a wonderful slip stitch pattern.
We love them all, so we're feeling rather spoiled for choice about which pair to cast on first. What a treat! So without further ado, we'd love to invite you to join in with the #ExmoorSockKAL. We and all the designers will be hosting this KAL over on our Ravelry Group and also on Instagram using the #ExmoorSockKAL hashtag. It'll be great fun choosing colour combos and having a jolly good old woolly natter whilst we knit along.
When does the KAL start?  4th February
When does it end?  4th March 2019
What patterns can I knit?  All of the above designs are eligible
Where do I get in on the chat about the #ExmoorSockKAL?  A chatter thread is being hosted by all designers on Ravelry in the John Arbon Textiles Group.  On Instagram you can also use #ExmoorSockKAL for KAL chatter and also tag each individual pattern so that your gorgeous makes will continue to be seen long after the KAL is done and dusted.
Where do I post my FO?  There will be an FO thread in Ravelry and you can also use #ExmoorSockKALFO on Instagram.  If you post in both locations, you double your chance of winning a prize!
What will the prizes be?  

Each of the designer's will be giving away a few free patterns as prizes
Three lucky folks will win some Exmoor Sock yarn (in the colour of their choosing) to make one of the above Exmoor Sock patterns.

Can I double dip with other KALs?  Absolutely.  Double dip, triple dip, quadruple dip away…
Do I have to use John Arbon Textiles yarn? You're more than welcome to use stash if you fancy, but it is a great opportunity to try some new Exmoor Sock!
Is there pattern support available during the KAL?  Yes there is.  All six designers will be on hand and happy to answer any queries about techniques.
Click here to head over to Ravelry and join in with our KAL! 🙂
Our Exmoor Sock Yarn is arriving with all you marvellous folk – it is just a joyous thing for all us Mill folk to see your parcels arrive all over the world! Just in case you have yet to hear about our new range, our Exmoor Sock yarn is a machine washable 4-ply available in 13 delicious new shades.
When blending this yarn we've used fibre from our local Exmoor Blueface sheep – a cross breed of the Exmoor Horn (full bodied and hard-wearing) and the Bluefaced Leicester (renowned for it's softness and lustre).  We've added naturally dark browny-black Devon Zwartbles giving extra bounce and a subtle fleck of colour, plus Falklands Corriedale to enhance softness and stitch definition. For strength we have spun the yarn with a robust high twist and added Nylon to ensure extra durability.
When creating the shades we were inspired by the changing seasons of our local Exmoor landscape. This national park is not only where we live, but home to many rare wild flowers, insects and animals, in amongst the grazing Exmoor Blueface sheep.  You can always catch a flash of deep saturated colour when exploring the greens of the hillside and blues of the bay.  So, when selecting the names for the 13 shades, it seemed only fitting to turn to the traditional local dialect of days gone by. Some of our favourites are Oddmedod (snail), Dimity (dusk), Quick Beam (rowan tree berries) and Bibble Bug (woodlouse). We hope they'll give you a giggle!
Click here to take a look at the patterns on our website. 
Click here to find our more about the yarn on our website.
And click here to head over to Ravelry and join in with our KAL! 🙂