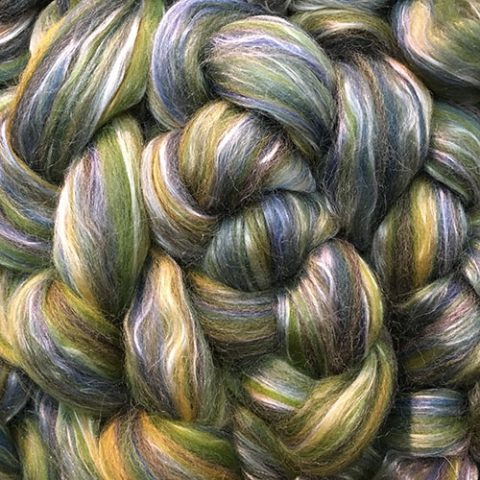 Autumn is upon us which means we are about to release our brand new catalogue and website (we will be doing a blog shortly to show you some behind the scenes action!)
So, if you are on our mailing list, you can excitedly anticipate your new catalogue landing on your doorstep towards the end of October.
But for now, we have made some lovely limited edition runs of woolly goodies for all our Mill Members.
So, if you are a Mill Member, simply head over to your Secret Members Page and you will find some new treats there…
We have two brand new Tops blends…
The first…
50% Merino / 30% Corriedale / 20% Silk – in 2 lovely colours Atlantis and Hexaplex. It is a blend of three different, but complimentary, fibres making one beautiful Top for spinning, felting and crafting. The 50% dyed organically farmed Merino ensures a super soft handle and brings bright colour, and when blended with crunchy and bouncy natural brown Corriedale, the colour becomes muted and heathery, finally the 20% A1 Mulberry Silk adds a super shine and touch of luxury.
The second…
60% Polwarth / 25% brown Corriedale / 15% Silk – a beautiful pale natural brown Top with a silk sheen, created by blending natural brown Corriedale with bouncy white Polwarth and Al Mulberry Silk (a special limited edition run).
We have also made two new Merino / Silk Tops colours called Candyfloss and Triton.  Blended the same way as our existing Merino / Silk colours, these are limited edition blends created by Helena and Jack at the Mill. 80% organically farmed Merino dyed in the UK to our own unique Knit By Numbers colour range, blended with 20% premium grade A1 Mulberry Silk. Prepared to ensure no slubs or short fibres and intimately gilled 3 times on fine pins to produce a superbly blended colourway, total class.
To add to our Harvest Hues range we have a brand new limited edition colour, New Leaf, using 65% organically farmed dyed Merino and 35% Zwartbles.  We are sure you are all familiar with our Harvest Hues range – this new shade is a brighter green which adds to the harmonious colour palette … for a limited time only!
Moving from Tops into Yarn, John has spun the beautiful Polwarth / Corriedale / Silk blend Tops into a fingering 4ply (400m per 100g).  This is a special limited edition run only available on your Mill Member page or via Wooltops (we made a run of the same yarn at the Mill for the lovely Andrew Bowman).  It is a beautiful pale natural brown with a luscious silk sheen, created by blending 25% natural brown Corriedale with 60% bouncy white Polwarth and adding 15% A1 Mulberry Silk. Perfect for overdyeing and experimenting, as each fibre will take the dye differently. We are so excited to knit this yarn up. The drape will be as equally awesome as the bounce!
We hope you love the latest Secret Member page update  … and, if you aren't yet, you can find all the info about joining here.
And, as briefly mentioned earlier, we will introduce you to our new catalogue with behind the scenes photos over the next few days. For now, enjoy!