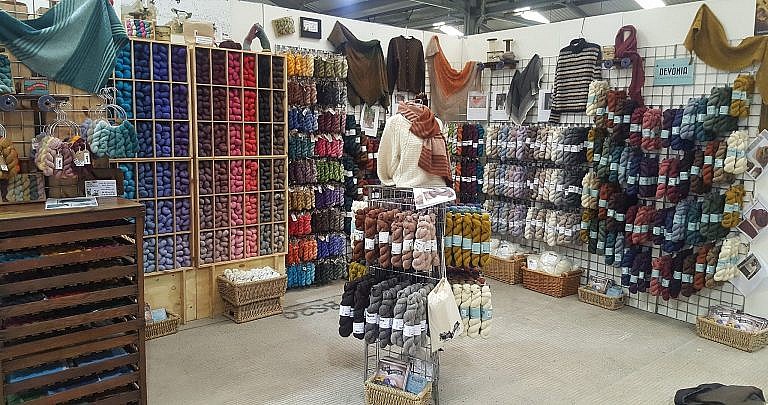 A massive thank you to all who visited our stand at Wonderwool Wales last weekend.
We had a fab time staying in a lovely cottage on a lovely farm nestled on a hillside in the beautiful Builth Wells countryside, whilst (of course), sharing our woolly wares with you.
John's tubs of joy, I mean Tops, were almost stacked to the ceiling!  Full of gorgeous blends, colours and natural fibres.  Very special Tops, including Cinnamon and Blackcurrant were made especially for the show.  These 2 shades are normally spun straight into our sumptuous Viola yarn range (100% organically farmed Falklands Merino).  Wonderwool was the first occasion we offered these 2 shades as Tops for hand spinning and felting.  We can't wait to see the different outcomes of your hand spins compared to our machine spun yarn at the Mill!  Don't forget to show us, or hashtag #johnarbontextiles on Instagram and Facebook!
The KBN mini's in DK had their second outing.  Standing proud alongside their 4ply mini friends – a fine display of 109 different shades in both counts of yarn.  They were very well received, like picking sweets out the candy jar. We loved helping mix colours, find fades and select gradients!
Devonia looked gorgeous in its autumnal hues, a fine array of 14 shades.  We make it at our Mill in both DK & 4ply from three locally farmed breeds (Exmoor Blueface, Bluefaced Leicester and Wensleydale).
Francesca Hughes' Devonia Cream jumper (in DK Devonia) pictured with Fay Dashper-Hughes' 'Loft' shawl (knitted from our 4ply KBN).
We had some fab visitors to the stand! Here is Hilary showing off her amazing hand spun yarn!
Kathy bought her Lace and Cables shawl which she had knit in on of limited run Mill Member special yarns.  Underneath this she was wearing this incredible lace backed cardigan knit in the same yarn.
Malcoms hand woven scarves woven from Knit By Numbers – wow, how funky are they and so much intricate, neat and perfect work!
Broken Tops bags turned into squares destined to become a super interesting intricate blanket.
Thank you to the Wonderwool organisers for such a well organised show and providing us with so many good foodie treats – from scotch eggs to lemon tarts, our tummies were very content!
We are now starting to fluff up the Mill, shine the spinner and polish the gill boxes, whilst the local market folk of South Molton are preparing their cake mixes!  All so we can welcome you into our home of all things woolly at our May Mill Open Weekend – we hope to see you there.  More info coming soon!