Yarnporium, the lovely London show!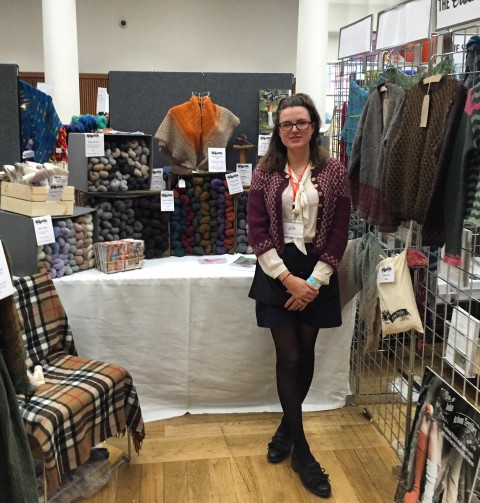 Good morning Wool Lovers!
Better late than never, we are writing to report on the new show Frankie went along to in London a couple of weekends ago … Yarnporium, created by lovely Alison & Rachel of the Yarn in the City.
The show was a great success – full of fibre makers and dyers and people walking round soaking up all the fumes, yum! It was the perfect start to sweater weather and getting excited about winter knits in front of the fire! (And mulled wine!)
We decided to do this show in a slightly different way – a smaller affair hosted by Frankie, our London correspondent and lady of wool, who took charge with aplom. So we had an intimate little stand with a carefully selected range of yarns and colours, along with some patterns Frankie has been working on using our yarn.
Her latest pattern, Gilt Wood Shawl is a beautiful blanket shawl knit using three colours of our Harvest Hues yarn. Its a big square folded in half featuring fairisle and lacey bobbles, its also super cosy! Its currently available on Ravelry and will be available on our website by next week.
A big thanks to Yarnporium for having us along and we hope to see you again!
Must dash, we are busy packing socks for Bath Christmas market which starts next week! Christmas I hear you say! I am already getting excited about a certain hot choccy I had almost every day in Bath! More info for you coming soon!