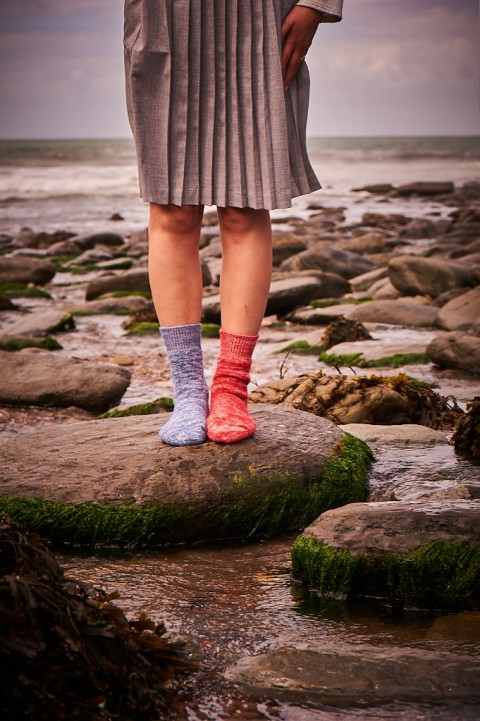 On this very chilly winter day we thought we would share with you some of the extra photos from our beautiful summers day sock photo shoot for our catalogue.
Photos shot by Ray Burmiston in lovely locations in and around our home, Lynton.
This first selection of photos was shot on Lee Bay beach … a typical North Devon Exmoor beach – all rugged and sharp looking with crashing waves and lots of rocks and pebbles! There is plenty of fishing and lobster potting to be done round here. And sometimes you may spy a Dolphin! Or even John on his kayak!
This part of the shoot involved Ray getting pretty soggy, you need to get the right angle on that sock!
The Harvest Hues yarn range looks perfectly happy sat on this rock in the sea. The colours go hand in hand!
This next loaction was shot in Valley of the Rocks … here you can see the amazing ancient rock formations, as well as the beautiful overgrown green fern which is just turning a rusty golden colour in amongst the moorland heather, with the vibrant blue / green sea behind! So many things to tickle the senses!
We love the wooden darning mushrooms hidden in all the fern here! We thought it almost looked like a fake Tracey Island type affair!
And here, finally, are some silly photos which include Juliet trying to dry a wet rock on the beach for Frankie to stand on, and Juliet and Cicely being contorted into all different kinds of shapes to create the perfect light and shade! Ha!
We hope you have enjoyed your look behind the scenes, who knew photographing socks was such fun!?
If this has wetted your appetite and if you want to see more lovely images of our socks and yarn, and have not received a catalogue yet, just let us know … drop Juliet an email with your address to [email protected]
And, do not forget the 10% discount postcard tucked in the catalogue (with that special discount code printed on it)!