Goodbye Fibre East and Hello Yarnfolk!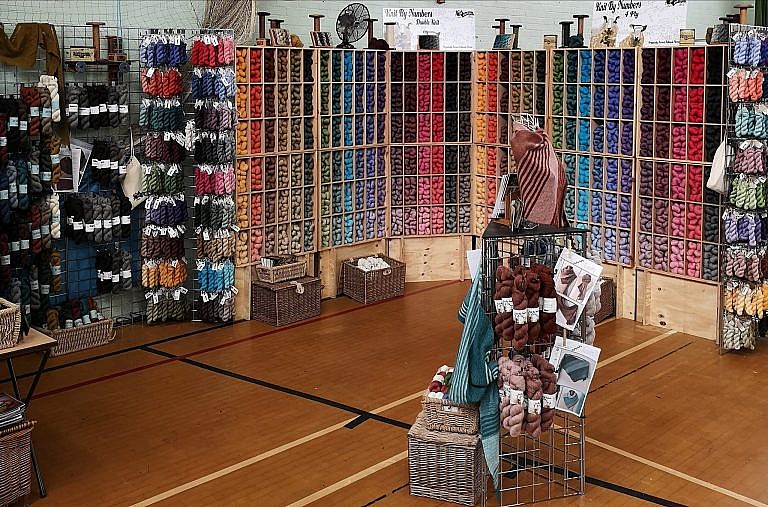 We had such a blast at Fibre East. We loved meeting all the folk who popped by our stand and particularly all the splendid spinners who will be joining in with BritSpin later in the year. It was Jack's first show with us and he was a marvel – thank you to him and all those who welcomed him to the world of woolly shows.
We had with us our usual colourful display of scrummy yarns, as you can see from the photo above. If you look carefully you'll also be able to see some knitting and crochet pattern samples dotted about. We've been expanding our pattern offerings off late, so do take a look at the patterns in our online shop if you fancy a new project.
The shawl joy was plentiful at Fibre East – but then who doesn't love a shawl? We had many kind and talented folk pop by to show us their glorious Finished Objects. In the photo above, Juliet is holding Julie Mayes' beautiful 'Solaris Shawl' which she knitted using our Knit by Numbers 4-ply. This pattern by Melanie Berg, is a splendid use of our mini skeins. Thanks so much Julie for sharing this with us!
The 'lil beauty above is our tribute to BritSpin and 90s Britpop music. It sold out on the first day of Fibre East, but never fear, we'll be making more soon. John and Jack were inspired by Blur's Parklife when naming this Top so, of course, we've spent the whole weekend singing:
'All the spinners
So many spinners
And they all draft hand-by-hand
Hand-by-hand through their Pondlife!'
Pondlife Top is a blend of 50% Corriedale and 50% Scottish Down Cross a beautiful blend of fibres with good grip which will hopefully aid those super spinners to hit some speed and serious mileage during BritSpin in October.
But, the show jollies are not yet over! John and Juliet are off to Northern Ireland and to Yarnfolk on Saturday 4th August. This will be our first ever show in Ireland, we can't bloomin' wait!
We're based in North Devon, so it is a fair old drive to Ireland. For this reason we'll be bringing just a small curated selection of our usual wares. John will be taking a selection of delicious Tops and Tops blends. We'll also have our delectable Harvest Hues 4-ply yarn range with us.
And, of course, our wonderful local longwool blend, Devonia, will be joining them at the show. This yarn is available in both DK and 4-ply and is a sumptuous blend of 50% Exmoor Blueface, 30% Bluefaced Leicester and 20% Devon Wensleydale. The longer staple fibers in this yarn not only make it hard wearing, but also make Devonia particularly warm and cosy. Garments made with this yarn will have a delicate halo of fibres just on top of the fabric – this halo is what traps air and makes wool warm.
And how could we go all that way without bringing our pièce de résistance, Knit by Numbers in 4ply. This glorious 100% organically raised Falklands Merino is available in a whopping 109 shades along with mini skeins for each colour – a knitters, crocheters and weavers paradise! This thickness is so versatile and works for everything from shawls and hats to jumpers and is amazing for colourwork.
John and Juliet are planning a few days off whilst they're over in Ireland. Juliet is looking forward to sampling the local delicacies from Traditional Fifteens and Yellow Man to Boxty and an Ulster Fry. John's aiming to track down as many record shops as possible so he can add to his ever expanding collection. And they're both looking forward to exploring the gorgeous countryside.
The Gobbin's Cliff path is high up on their list! This dramatic cliff walk was built by the engineer Berkley Dean Wise and originally opened in 1902. Unfortunately the path fell into disrepair during World War II, but in recent year's it has been fully restored. Juliet and John will be visiting and soaking up the dramatic views!