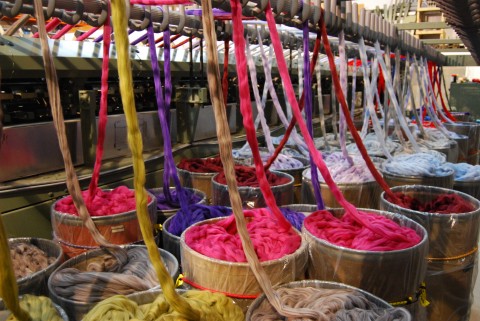 Hello woolly lovers and welcome to 2017!!
We have been very busy at the mill so far this year … we have started the year tweaking a couple of naughty machines (they are feeling much better now) and are at this moment in full production spinning up a fresh batch of Knit by Numbers ready for Unravel and Edinburgh yarn festival.


Unravel is the first show of the year and we are excited to get back into show season. You can find more information about it here.
We will bring you more info about Edinburgh Yarn Fest over the next few weeks!
But for now, we had a lovely weekend at the York Guild of Spinners Weavers & Dyers (21st Jan). John gave a talk about what he gets up to at the Mill (and told some impromptu jokes as well!). Of course we took along plenty of yarns and tops! And had a wonderful time. Thank you to all the Guild members for looking after us so well.
Hope to catch with all you woolly folk at a show / event during this year and hope your New Years have started with a little less machine craziness than ours!