Happy New Year and info about this years Open Weekend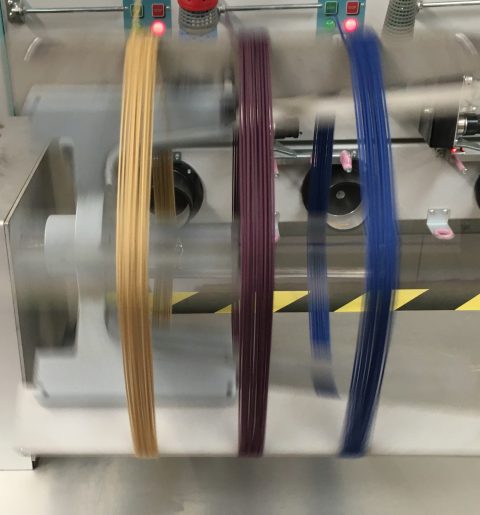 Happy new year from all of us at John Arbon Textiles! We hope you managed to get in lots of spinning, knitting and all other crafty goodness over the festive holidays!
We are now back from our break and full of vim and vigour for the new year ahead!  Kevin and Butler (the spinners) are both spinning away at the Mill and we are busy making lots of lovely tops and yarns.
Now the year is here proper, we want to make sure you all know the dates of our 2018 annual Open Weekend as Sat 19th and Sun 20th May!
For those who don't know, our open weekend is held at our Mill in North Devon. Prepare for a two day fluff extravanganza where we open the Mill to the public and have tours of our vintage machinery. Where all our lovely yarn and tops will be available, alongside some limited edition goodies and many a fab sale item (plus local homemade cakes and loads of tea as well).
Our Mill is not usually open to the public, but on this special weekend it will be open for tours throughout both days, so people can see and learn about our vintage spinning and processing Mill machinery. This year we have 4 specific tours on both days that can be pre-booked … at 10.00am, 11.30am, 1.00pm and 2.30pm. Entry is free.
To book a slot simply email ([email protected]) or phone (01598 752490) with your name, number of people, time of tour and date (you will need to be at the Mill at least 15 minutes before your tour starts. Once booked, if you cannot attend for any reason we would be grateful if you would let us know so we can pass your place on to someone else).
We will also be having our regular 'Show & Tell' – where any visitor can bring along and show us any item that they have created from our fibre or yarn (be it spun or felted, crocheted or knitted or woven) … each person will be issued with a raffle ticket and entered into a prize draw for a chance to win a goodie bag of woolly treats. Entries in the past have ranged from hand spun yarn, intricate felted sheep, (check out those eyelashes!), hand knitted items and crocheted toys! We love to see everything you lovely people make with our yarns and fibres, so its a great opportunity to show us!
And, of course, if you have been on a tour on a previous year, or just wish to come along on the day, you can of course pop in throughout the weekend to look at the woolly goodies, chat with those Mill folk in attendance, show & tell with gusto and simply chat, eat, drink, join in the woolly atmosphere and be merry.
We hope to see you in May for our special Open Weekend.
Before then we will be at Unravel in February, Edinburgh Yarn Festival in March and Wonderwool in April. More about all of those woolly shows nearer the time!