KBN Minis & a brief Knit by Numbers history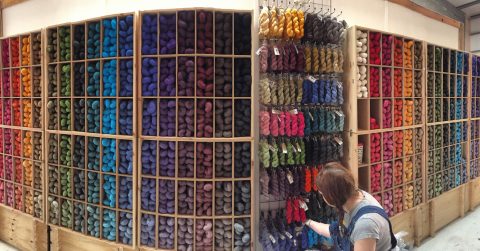 Our Knit by Numbers range is what we would consider our most show stopping display. We are, therefore, going to share a brief history of KBN before we tell you the really exciting news, (by the way, it's small and cute.)
A small idea with big potential created by John almost 7 years ago. The Knit by Numbers range is named after one of John's fun pastimes when he was a child – Paint By Numbers, whilst at the same time being a homage to the celebrated Pantone colour charts.
Paint By Numbers, for those too young to remember, were essentially painting kits – drawings of light blue or grey lines indicating areas to paint … each area had a number written in it and a corresponding numbered colour paint to use.  This very activity inspired the naming system of our Knit By Numbers colours … each shade being allocated its own number, rather than a name.
Meanwhile, in John's later youth, the Pantone colour charts became one of his staple tools – a gorgeously elaborate colour matching system depicting samples of colour after colour, with tonal matching shades alongside.
And this colour selecting delight inspired the tonal colour variation that Knit By Numbers has become.
John and Juliet took their new concept to Unravel 2011 where they revealed their Knit By Numbers 100% Merino DK gradient range for the first time. Back then there were only a modest 9 base colours in 6 different gradient shades. This photo is from the outing and we are happy to say we have improved our presentation a bit since then.
We are now up to 17 different solid base colours all in 6 different gradient shades, plus white (a total of 103 different colours).  But there is always time for a new set of colours – a constant expansion to supply every colour the heart desires!
Last year we had the excitement of spinning the entire range in a 4ply / Fingering weight in all the same shades – which now sits proudly alongside the DK range (both available in 100g hanks).  This opened up so many more possibilities taking it from a stash jumper or cardigan staple to the potentials of light weight shawls and garments!
And now for the grand unveiling…
Adding a new dimension to our Knit by Numbers range, we now have the long awaited KBN mini in 4ply weight!  These super cute little bundles of joy are sold in 25g / 100m mini skeins, with the idea you can create your own gradient sets, fades and Fairisles!  We have photos some of our favourite combinations to give you an idea how the colours can work together, where accents are great and how understated neutrals can be.
We have taken these out to a couple of shows so far this year (they travel in a trusty rustic apple chest)
But now you can find them on our website here.  Each skein is £4.25 or a selection of any 6 for £24.  There are currently 103 colours to choose from.
Here are some of out most favourite patterns that use gradients to get you inspired… We cant wait to see your colour combo's, be they crazy medleys or modest gradients.