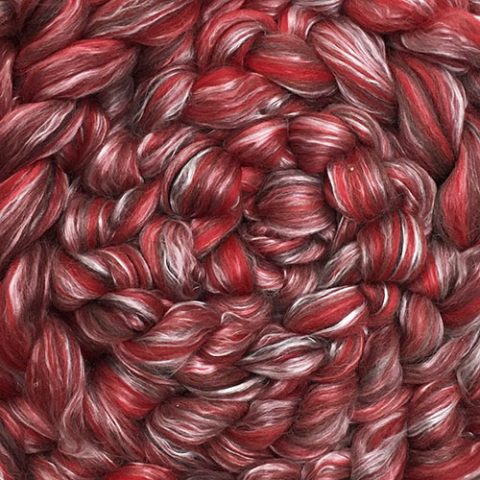 On our return from Edinburgh Yarn Festival we are putting up some new treats on the Mill Members pages!
Two gorgeous new colourways of TOPS both in a blend of Merino, Corriedale and Silk. This blend is proving very popular both at the Mill and in your hands, and we can understand why! The Merino is super soft and colourful, whilst the brown Corriedale is full of bounce and character, and the A1 Milberry Silk provides a lustrous shimmery shine … these Tops tick all the boxes. The team at the Mill have made 2 new limited edition colours – Silver Sonnet and Silver Thistle.
Silver Sonnet being a mix of gorgeous red/pink hues, whilst Silver Thistle is a sumptuous purpley lavender.
As always you, as Mill Members, are also the first to experience our latest yarns… So we have added the KBN Minis in DK onto the Mill Members pages! It was a treat to watch people pick'n'mix the DK minis during their first outing to EYF. They will stay on the MM page for a few weeks before moving onto the general website.

We hope you enjoy these new treats … they join the latest new MM recruits – Knit By Numbers Copper in 4ply & DK, Corriedale Alpaca yarn and Tops, and Thin Lizzy Devonia Top.