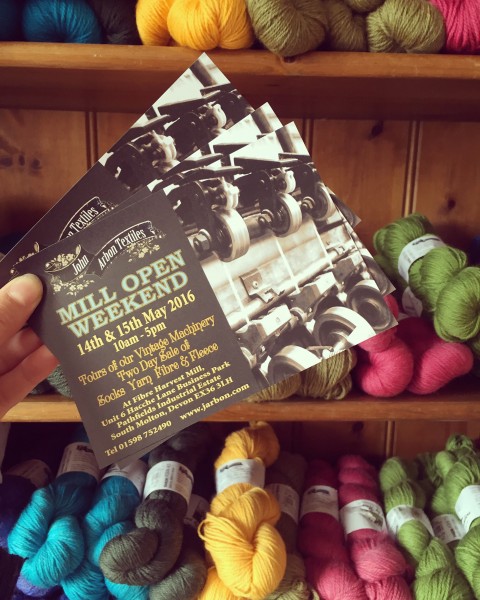 Behind the scenes we are busily sorting our Mill, yarn, fluff and socks for our up-and-coming annual Open Weekend on Saturday 14th and Sunday 15th May.
It will be our third Open Weekend here at our South Molton worsted-spinning Mill.
We love inviting everyone to come and see the hard work John (and the team) have put into nurturing our lovely old mill machines back to life.
This year the tour organisation is going to be slightly different. If you are interested in going on a tour we have slots available so you can pre-book at a set time. This can be booked anytime from now by emailing or phoning Juliet ([email protected] / 01598 752490).
Of course, you can also still just turn up for a tour, but you now just have the opportunity to guarantee a slot at a certain time.
And if you do not fancy a full Mill tour that is fine as well. We will have all our yarns, tops and socks available here in one place … and many of them will be at special sale prices.
Plus we will have a marquee at the front of the Mill where you can have a sit and a natter and share a project with a friend, whilst having a cup of refreshment and a locally home-made cake!
Anyway, we have a page on the website giving lots of details about parking, children & animals Here … so please have a read and if you need any further information please just contact us.
In the meantime, you can picture us here at the Mill … busily polishing and sorting (it's spring cleaning time) whilst still making, preparing and labelling lots of lovely yarn and tops and socks.