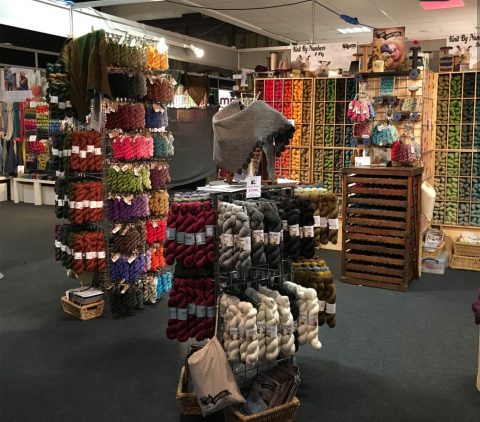 We are back and rested from our epic adventure to Scotland! We had a spectacular time at Edinburgh Yarn Festival and feel super inspired after leaving such a talent filled show!
For us, it was the first outing of our KBN DK mini skeins and we loved watching people pick'n'mix their fave colour combos and hear what they were going to create. They will be on our website, alongside the 4ply minis, later in April, but in the meantime will be up on the Mill Member pages very soon.
John was very proud of his new show display 'the tower of Tops' which was stocked to the max with sumptuous, silky, soft and supple fibre of all different blends and colours. Mostly these can be found on our website, or if not, they are more than likely limited runs in gorgeous colourways and blends and will be nestled happily on our Secret Members page.
We saw so much knitwear!! Thank you for coming to our stand and showing us what you have made. Here is just a small amount of you lovely crafty folk who came to show & tell…
These ladies are sporting Blaster by Andi Sutterlund on the right, and Robin on the left.
This hand spun and hand knitted Alpaca supreme fibre Dunedin pattern by Lucy Hauge as a gorgeous beginning to end project!
Ann shows off Devonia 4ply, in Pollen Gold colourway perfectly in her Manu pattern by Kate Davies, and buttons from Textile Garden, one of John's fave colour combos, turquoise and mustard!
Knit by Numbers and Light Exmoor Zwartbles look perfect on these two in their very different styles but perfectly suiting jumpers. Aren't you guys talented!?
A massive thank you to Jo and Mica, of course, for being amazing and making the show such a pleasurable experience. We loved the Ceilidh and shared some moves on the dancefloor. And we even spent an extra 2 days in Edinburgh after the show enjoying the sights (and avoiding the snow back home in Devon!)
Anyway, thank you kindly EYF … it was fab to meet so many yarny folk from all over the world and hope to see you again. We will be in Wales next month for Wonderwool. More info soon!