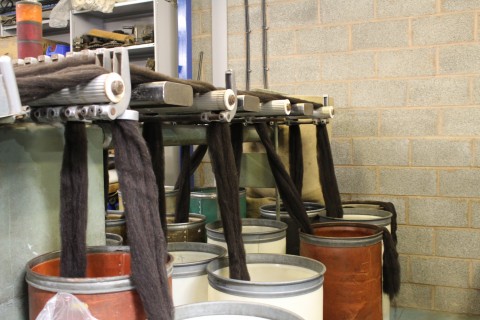 Thank you to every single person who came to visit us at our Mill Open Weekend … it seemed to be a great success and we have had lots of positive feedback.
We hope you had a fab time being shown around the mill and have more of an idea about what goes on behind the scenes here!
There was tea and cake aplenty! We were very lucky with the weather, and it was great to see lots if happy knitters, spinners and crocheters not only visiting but enjoying the sunshine outside the marquee whilst partaking of their crafts. Thank you.
Lovely guild member's Brenda and Jean spent the weekend spinning up our fibres on their wheels and answering many a spinning query!
John and Sara did an amazing job of showing everyone around the mill and letting people in on a few secrets! I'm sure the biggest gasps come with the splicer demo – it's like magic, not a knots in sight!
Here are some photos of John giving tours and explaining how the fibre process works…
John shows how the machine with no name works…. Clint is working on the Daughter of a Shepherd yarn, Hebridean with a hint of Zwartbles.
Going on to explain how Ralph works, he is working on blending The Little Grey Sheeps Gotland yarn. Yum!
We had lots of entrants to the goody bag raffle! We look forward to sharing the photos of the entries with you! Everything was spectacular! The winners will be drawn when John and Juliet return from there holidays, so keep your eyes peeled and we will let you know if your a winner!
A special thank you to the mill folk who made the machines look so sparkly and were willing to share some of the their tips! And also a big thank you to the extra helpers we had come along (you know who you are)! And to Andy of Wooltops who came along to share his undyed white yarns. And for Amanda Perkins for putting 2 of her beautiful crochet blankets on display for all to see.
We had such a lovely weekend sharing our Mill with you all … and are now feeling more inspired than ever, so lets get spinning!
Lots of love, The John Arbon Textiles weekend team!
John, Juliet, Frankie, Daisy, Sara, Becky, James, Lorraine, Judi, Ginette, Sandra, Pat, Alan, Rowan, Julia & Lewis. X
And thanks to Amanda, Andy, Pauline, Amy, Brenda & Jean! X