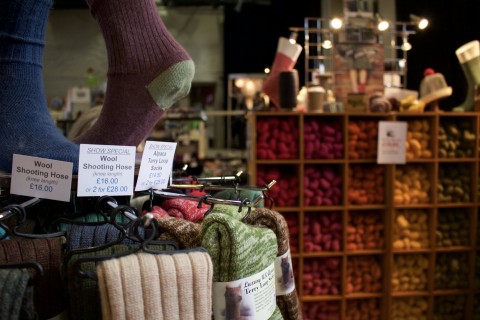 We have been crazy busy since our return from Unravel, so this blog is a little late …apologies!
We had a fab time as always in Farnham at Unravel celebrating knitting, wool, fibre and all things crafty!


We took along some new yarns and a new pattern!

One new yarn to have its first show outing was the Alpaca Delight – a light 4-ply / fingering weight yarn in beautiful pastel colours made from oh so soft natural Alpaca shades mixed with a dyed Merino, creating a very soft pale colours. They look like something like a refresher sweet packet all together!


We also took some limited edition Alpaca Delight colours with us, these are punchy and perfectly compliment the soft original shades. And, if you are a mill member, you will be able to find these limited edition colours on your secret mill page!

Along with the Alpaca Delight we took with us another new yarn – Harvest Hues.

Harvest Hues is Merino blended with a hint of Zwartbles. This yarn is also a light 4ply / fingering weight in a range of autumnal shades. The Zwartbles (naturally dark brown in colour) gives the dyed Merino a deep, rich colour plus added depth and texture to the super soft shiny Merino. The Zwartbles fibre we use are from animals bred on Exmoor – a dark and rustic sheep.
We also took the whole range of Harvest Hues as Tops for you hand spinners and felters! John was busy manning the Tops and giving fluffy advice!
Juliet was very sad she could not attend Unravel (having to stay behind in Lynton), but we did pass your well wishes back to her!
We also took our latest pattern 'Sweet Clementine' by Francesca Hughes (using just 2 skeins of our 2-3ply Alpaca yarn).
Now Available on Ravelry HERE, our website HERE, and at shows.
Here are a few photos of our stand if you didn't make it to Unravel 2016…
Thank you to everyone who came to see us!
And now… we are making ready for the EDINBURGH YARN FESTIVAL in just a couple of weeks (18th and 19th March)!
More information on the show HERE
Stay tuned for special yarns and tops we will be taking with us!
Love,
The John Arbon Team!