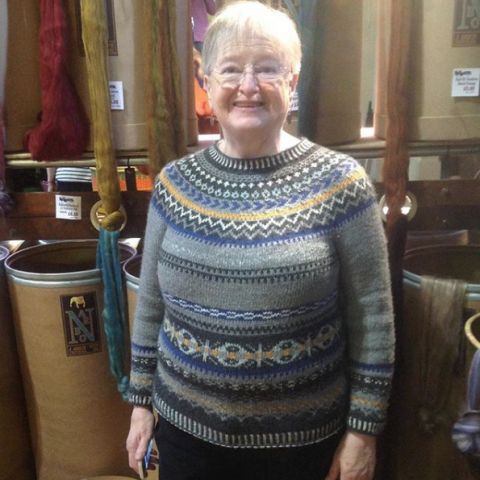 With Unravel almost a couple of weekends ago, we thought we would share some of our favourite moments from the 10th Anniversary of the yarny festival held in Farnham, Surrey every year.  But firsty, thank you very much to the organisers and everyone as always for coming by our stand.
Unravel is our first show of the year, and it sure was a gooden!  We enjoyed helping lots of people choose their perfect yarn and colours for up-and-coming projects, whilst these three lovely ladies came to show us knits they had already made using our yarn…

This lovely lady was sporting her free styled knitted sweater she made in our 4 ply Knit by Numbers, she called it 'Butterflies' and we love it!
Happy Pom Pom Knit along winner knittingjinny in her Devonia Yarn 4ply in Francesca Hughes pattern Vellamo.
The lovely psychoknitter and her Bristol Ivy 'Messaline' pattern knitted in Devonia 4ply Cinder Glow……beautiful!
Unravel was the first outing of the latest Knit By Numbers colour… Copper (Burnt Orange). Our new 6 gradient shades of KBN Copper yarn started off life as our KBN Burnt Orange Top … however, after spinning it up, the yarn has a wonderful coppery feel, hence it now having both names.  Not currently on our website, Copper (Burnt Orange) in both DK and 4ply will be heading onto the Mill Members page first (within the next couple of weeks)
Unravel saw John truly snowed under with Tops!  Taking some new smaller cans meant we could bring all the more fibre! … including limited edition Devonia colours…
As a homage to the signage of our old re-vamped mill machinery, John created a fab logo for the new cans, filled to the brim with all sorts of blends and fibres…
We are now back at the Mill and hard at it creating loads more woolly wonders.  So, if you didn't catch us at Unravel, see you at Edinburgh Yarn Festival in March…  More info about that soon!