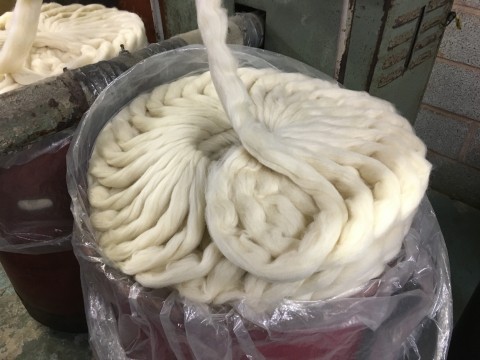 HOT OFF THE PRESS!
This week we have been able to whip up some coloured Devonia Tops in blends we have been busily working on behind the scenes. We are coming to the final stages of our colour sampling and swatching, all of course influenced by Jean Lurcat, an incredible French Tapestry artist. We cant wait to share our process and start spinning the yarn!
We will be bringing FIVE of the blended Tops on their first ever outing to Unravel this weekend, the blend is from three of our local sheep, 50% Exmoor Blueface, 30% Devon Bluefaced Leicester, 20% Devon Wensleydale.

Here are the few we can show you right now!
The Natural White,
An incredible bluey blacky Navy!
A very exciting Salmony Coral,
Names in progress as we speak.
The handle is pretty incredible and when spun will become a beautiful silky yarn with a bit of bounce and incredible shine from the Wensleydale fibre.
Frankie has knit up a swatch in the natural white colour we have spun to test and she assures us its delightful!
Righto, must get back to gilling the rest of these colours!!
See you at the weekend! You can find more information about Unravel HERE.