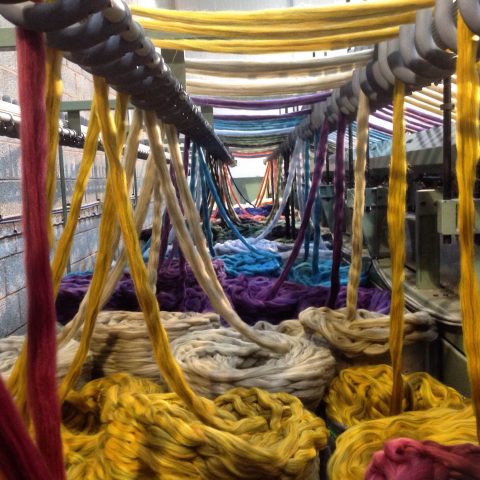 We are gearing up for our first show of the season here at our Mill in North Devon…
The Mill folk are busy spinning sumptuous Yarns and preparing beautiful Tops, whilst the Shop folk are fluffing and labelling Yarn that is busily coming off 'Gillian' (our skein winder at the Mill).
The first show of 2018 is Unravel which we have proudly been attending for many years now. This fab show in Farnham, Surrey is celebrating its 10th year this year. Happy 10 year anniversary! We will be bringing along a myriad of colourful Yarns and Tops to celebrate.
Kevin (our big spinner, and one of the newer machines at our Mill) is currently spinning away a huge array of Yarn as we speak. It's really fun setting up this machine, can you tell?
We will, of course, be taking Knit by Numbers along to Unravel. It is our Organically Farmed Falkland Merino yarn range and now comes in DK and 4ply in 100g skeins and also 4ply Mini Skeins as well. We love the minis for smaller projects, colour work, and of course fade and gradient shawls.
As well as our shelves full of KBN gradient rainbows, we will have our other usual Yarns…
Including Harvest Hues, a 65% Merino yarn blended with 35% Zwartbles to create beautiful, mottled, earthy colours used for Frankies' Gilt Wood Shawl.
And our Alpaca 2-3ply, perfect for lace shawls, and light summery garments.
The Mill Team have also been whipping up plenty of regular Top blends (and some gorgeously luxurious specials) … expect to see some colourful Merino and Silk blends and beautiful natural fibre blends – all sorts of colours and lustres. Look out on Instagram in the days leading up to Unravel as we may well reveal some of our special limited edition Tops blends we are taking along!
You can buy tickets and find more information about Unravel here on their website. We hope to see you there.
But, never fear, if you can't make it to Unravel this year, we will be heading up north to Edinburgh in March, more info on that later!