Wonderwool Wales this weekend!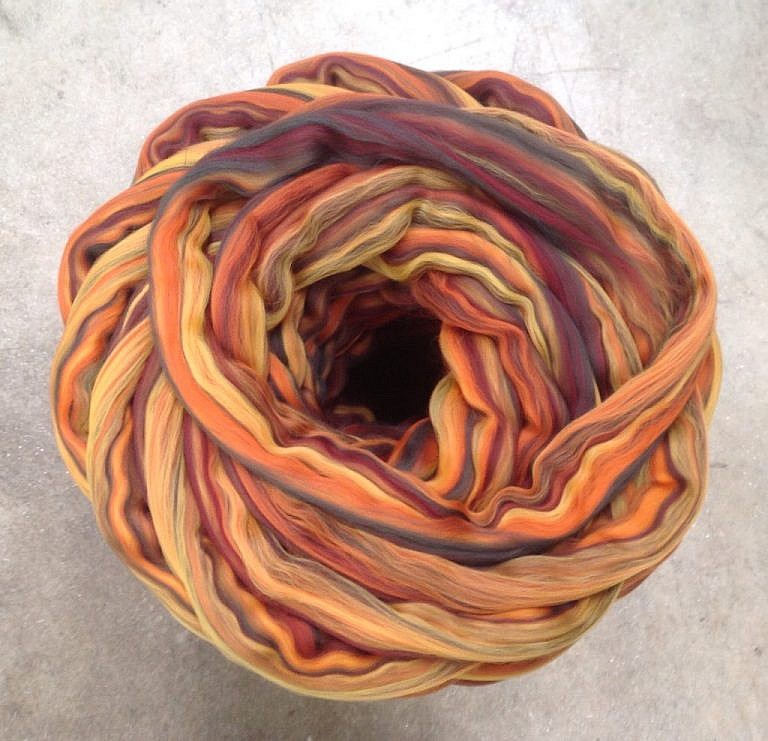 We are coming up to one of our most top-tastic shows!
Wonderwool Wales is on the last weekend of April and we are happily busy at the Mill preparing lots of sumptous Tops and fab fibre blends for spinners and Tops lovers!
We are on our usual stand of M5 and will be filling it the rafters!

John and the team have been planning Top blends and colours galore. We will have our one-of-a-kind crazy colour combos, alongside the regular standards, and some gorgeous eclectic fibre blends (like the sumptuous coloured Merino, brown Corriedale and Silk) which have become firm faves! You can find some of these already in the Mill Member Secret area if you can't make it to Wales and don't want to miss out.
After many requests, John has just finished making a run of some fabulous Viola yarn shades in Tops form – these are a glorious blends of different shades of dyed Merino colours… here we have Cinnamon to tickle your fancies, with Blackcurrant coming soon!
We will be bringing all our lovely yarns as well. The adorable Knit By Numbers DK minis had their first outing at EYF and will be coming along to Wonderwool too, next to their 4ply companions! They are perfect for colour work, accessories, gradients and little colour pops!
Our steadfast full range of Knit by Numbers in 4ply and DK (in both 100g and 25g minis) in all the current 109 tonal shades will take centre stage in their cabinets of rainbow dreams.
Alongside will be Harvest Hues, Alpaca 2-3ply, Alpaca Supreme and Alpaca Delight!
We are looking forward to seeing you there and will try not to eat all the yummy Scotch eggs before you arrive!
You can find more info about Wonderwool Wales and buy tickets here.