So Many Goodies Coming to Wonderwool, including the Annual!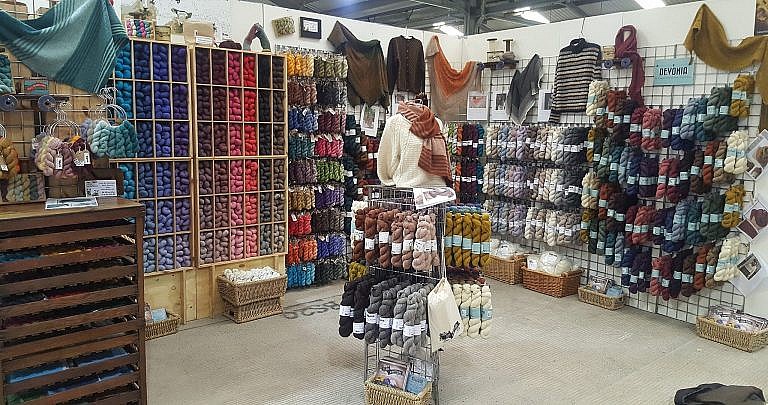 Wonderwool Wales is only a few days away and we are happily bustling about the Mill preparing lots of sumptuous Tops and fab fibre blends, as well as skeining up oodles of delicious Yarn.
We will be on our usual stand of M5 and will be filling it the rafters with Yarn, Tops, Patterns and Samples!

John and the team have been creating blends and colours galore. We will have our one-of-a-kind exciting colour combos, alongside the regular favourites, plus some gorgeous single breed offerings too – for the texture lovers out there!
We'll be bringing our limited edition Cocktails Tops a blend of 60% bouncy Corriedale, 30% grey Alpaca and 10% Mulberry Silk in 6 sophisticated, tipple inspired shades: G&T, Stawberry Daiquiri, Dark & Stormy, Midnight Kiss, Slow Gin Fizz and White Russian. For any Tops lovers not attending Wonderwool, these beauties are also on the Secret Pages in Mill Memberland.
We will also be bringing a whole host of brand new Tops blends, including more shades of our Viola Tops, to accompany Blackcurrant (pictured above). Remember to take a peak at our Insta just before the show if you'd like to see what other delectable delights John and the Mill folk have whipped up for your pleasure!
Our first ever Annual is hot off the presses and we're so excited to be able to share it with you – and will have pride of place on our Wonderwool stand. So, if you love browsing through a magazine with a cuppa and your best-loved biscuits, then you're in for a treat! The Annual pages include some gems – insights into how their mill is run, a spot the difference and word search by the splendid Katie Green, a few of John's favourite factoids and even some input from John & Juliet's much loved, characterful old cat – Mr Smoke!
The Annual features 4 exclusive patters designed specifically for our Yarns by Fay Dashper-Hughes, Sonja Bargielowska, Francesca Hughes and Rachel Atkinson. We'll be bringing all the glorious samples to Wonderwool with us, so you'll be able to peruse these splendid new designs and flick through the Annual's pages in person.
Our new Exmoor Sock yarn will also be with us along with an abundance of samples – they will be hanging on our special Wonderwool washing line of woolly treats waiting to be squished. We have 7 different patterns to choose from – so you'll be spoilt for choice if you fancy getting some of this yarn on your needles!
We'll also have oodles of glorious new Exmoor Zwartbles 4-ply to accompany the DK version along with some more beautiful new patterns by Frankie & Sonja (pictured above) designed especially for the yarn.
And it just wouldn't be Wonderwool if we didn't bring the rest of our trusty range of yarns: Devonia, Harvest Hues, Alpaca 2-3ply, Alpaca Supreme, Viola, Merino Laceweight and last but not least our yummy range of Knit by Numbers. With 109 shades in both DK & 4ply (in 100g skeins and also 25g Minis), our Knit by Numbers cabinets are a rainbow of dreams to any yarn lover – it is always brimming with so much potential!  We can't wait to see your colour combos for fair-isle, stripes and gradient projects.
See you all soon!
You can find out more info about Wonderwool here.
Address:
Royal Welsh Showground
Llanelwedd,
Builth Wells
LD2 3SY
Opening Times:
Saturday 10am – 5.30pm
Sunday 10am – 4.30pm