Wonderwool – it's been a blast!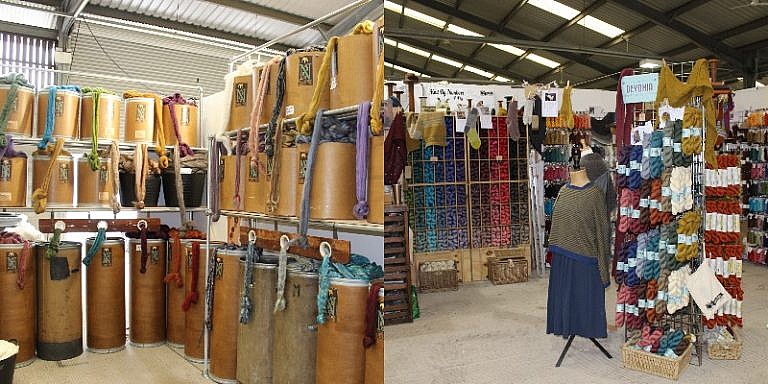 We have just come back from a fabulous weekend at Wonderwool where we chatted up a storm about all things woolly! Wonderwool is one of our favourite shows as we get to venture into the gorgeous Welsh countryside and see all you lovely people with your amazing creations, which never fail to impress us.
To add to the show excitement, there was also a veritable abundance of wildlife just outside our lodgings … Nothing like waking up to the sound of frolicking bunny rabbits and a meandering stream.
Along with the fluffy goodies came the usual culprits – John, Juliet, Sonja, Tash, plus our intern Thea – who enjoyed her time immensely at her first ever wool show!
As always our Wonderwool stand was throbbing with activity in the land of tops – we know you love rummaging about and selecting from the John's beautiful shades. Thank you for being so enthusiastic about our tops specials we made especially for the show too! Our Cocktails tops (Midnight Kiss and Gin & Tonic being 2 of our favs) are a beautiful blend of 60% Corriedale, 30% Grey Alpaca and 10% Silk. We also made this deep midnight show special Black Gold of the Sun (which just might be making its way to the Secret Pages very soon). These are pictured below in all of their glory.
Of course, a post show blog post would not be complete if we did not include some of the gorgeous knits that you lovely customers have made using our yarn. Just take a look at the beautiful cardigans that Jackie and Ruth have created using the Harvest Hues collection (with a little bit of last year's special Bazaar thrown in for good measure). Looking splendid ladies!
How is it possible that this is the first spinning and knitting by this lovely visitor? We are seriously impressed… this fab little lady also used Harvest Hues in the shade Thistle.
We were very pleased to hear your positive feedback about our new Exmoor Sock Yarn as it makes its Wonderwool debut alongside the expanded Harvest Hues range. These collections accompanied both of our Knit By Numbers and Devonia stands that made their usual appearances.
It was so lovely to see the knitting patterns that have been featured in our annual all together on the stand. This is our new publication about life at the mill with a few fun tidbits to entertain you with.
We end this post on even more good news…wait for it…WE WON BEST STAND! Here is a photo of John and Juliet looking absolutely delighted about this! Such a fab time was had all round and we can't wait to see you again next year.