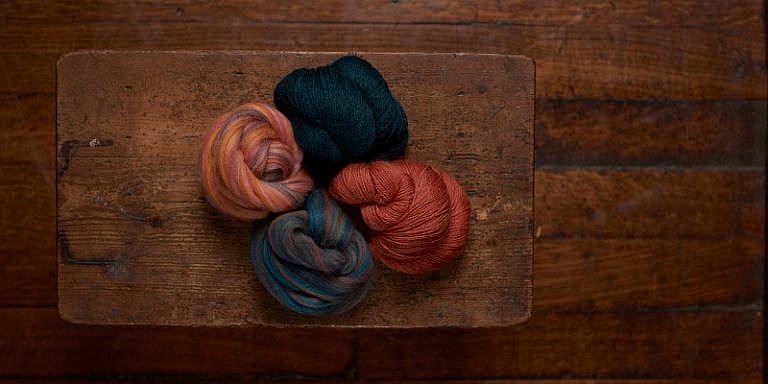 Our brand spanking new Yarnadelic range has just landed and we're so thrilled with all your excitement and enthusiasm and support for this funkadelic new base inspired by John's record collection. So what better way to blast away all those winter blues than with a colourful MAL (make along)?! Whether you choose to spin, weave, crochet, felt or knit we'd love to see what delights you can conjure up in this new range. We will be hosting this MAL over in our Ravelry Group and on Insta (read on for more info and MAL rules).
Our new Yarnadelic range is 100% Falklands Corriedale and available as Tops and also as Sport Weight / Heavy 4ply (333 metres per 100g). When creating the 18 colours we were inspired by John's eclectic record collection – everything from punk to funk. We had a cracking evening when John played us few of his favourites and, whilst sipping a few glasses of fine, full-bodied wine, we all wrote down the colour each song evoked – ''twas such a blast! Then the hand carders came out and we began creating shades to illustrate the sentiment of each song – and thus the palette for Yarnadelic was born.
We've been listening to some of the tracks John selected on repeat since he first played them to us. Each of the shades in this range is named after a specific track. Click here to visit our Yarnadelic Spotify playlist with some of the songs that inspired us and Click here to get your hands on John's Soundcloud mix. So sit back and click those needles, wave those hooks and tap that treadle to the beat!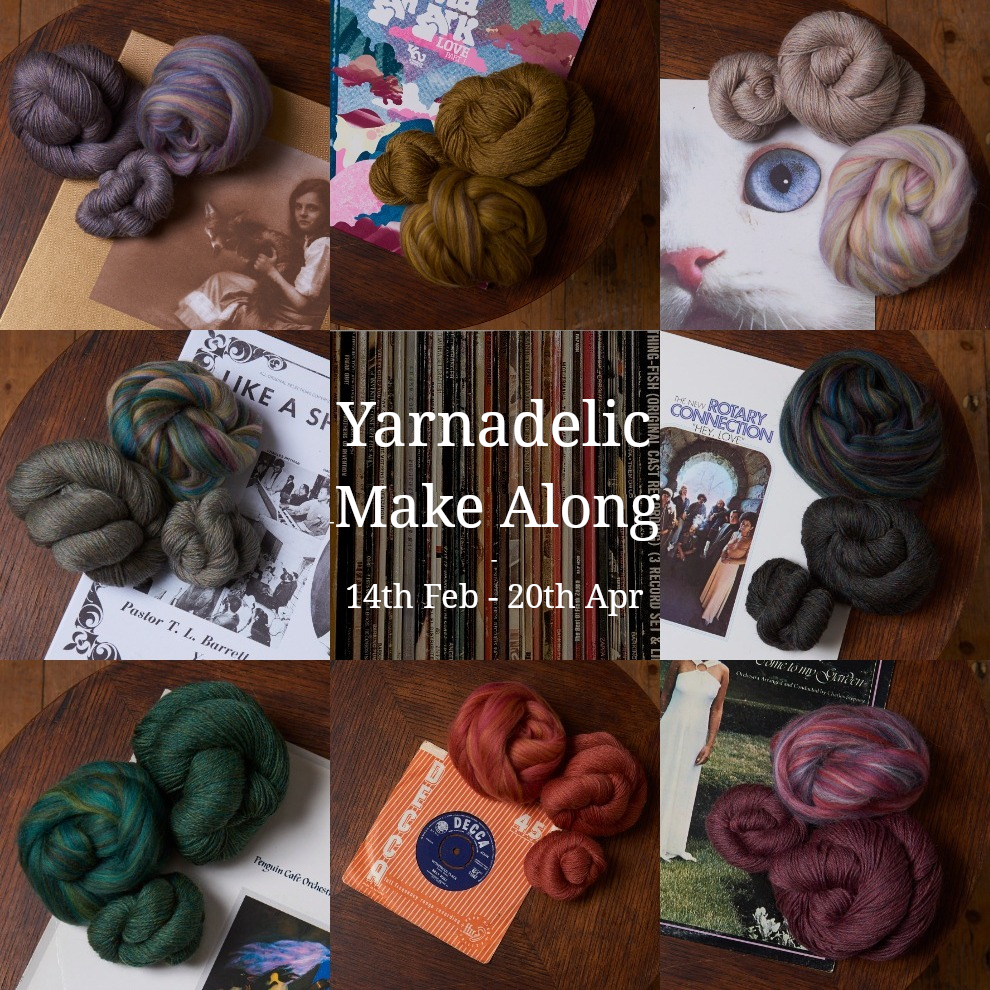 So without further ado, we'd love to officially invite you to join in with our #YarnadelicMAL. We will be hosting this Make Along over on our Ravelry Group and also on Instagram using the #YarnadelicMAL hashtag. It'll be great fun choosing colour combos and having a jolly good old woolly natter whilst we whip up some woolly wonders together.
When does the KAL start?  14th February, 2020
When does it end?  20th April, 2020
What can I make?  Absolutely anything that tickles your fancy! We have some swanky new Yarnadelic patterns if you're looking for a little inspiration, but you're more than welcome to spin, crochet, weave, felt or knit anything your heart desires.
Where do I get in on the chat about the #YarnadelicMAL?
Where do I post my FO? There will be an FO thread on Ravelry and you can also use #YarnadelicFO on Instagram. If you post in both locations, you double your chance of winning a prize!
I've already started a Yarnadelic project… brilliant! Of course you're more than welcome to join in.
What will the prizes be? Four lucky folks will win a £40.00 JAT gift voucher (2 fibre & 2 yarn projects).
Can I double dip with other KALs? Absolutely. Double dip, triple dip, quadruple dip away…
So, that's all for now… we're off to rummage about on the shelves and see what colour combinations we can cook up. We love a good old Make Along, so can't wait to get started in a few days time!
And click here to head over to Ravelry and join in with our MAL! 

From Left to Right: Camille Mitts by Astrid Tueting, Ambient Pop by Helena Timms, Coltrane Shawl by Sonja Bargielowska and Pandora's Love Vest by Rebekka Mauser. 
If you're short of a little inspiration then look no further than the oodles of new Patterns we have gathered together for our Yarnadelic. From colourwork to texture and lace – we like to think there is a lil' bit of everything going on here to tickle your fancy! Whether it is joyous mini skein projects or rhythmic garter and slip stitch…
Click here to take a peek at all the amazing patterns folk have designed! 

From Left to Right: Fading Wings Shawl by Natalia Zablotskaya, Soundwave Static Cowl by Fabienne Gassmann, Don't Fret Shawl by Jo Shaw and Casual Ocean by Francesca Hughes.