Come see our cosy & colourful Yarndale stand!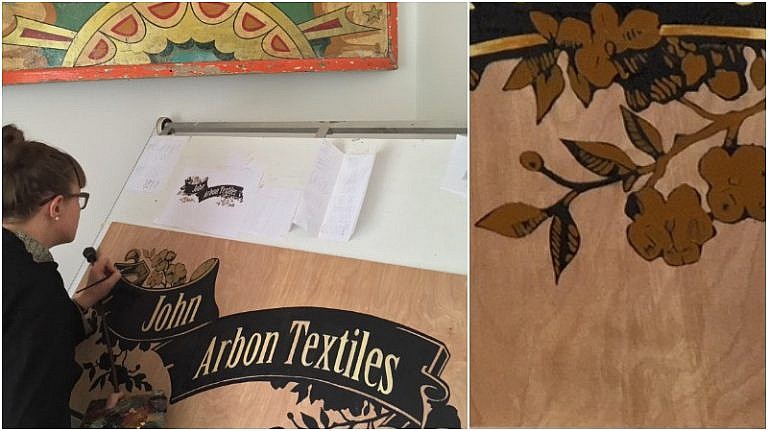 We're bundled up in woolly garb and sipping hot chocolate because the Autumnal chill has started (as it is now the end of September, don't you know), but, happily that can only mean one thing – Yarndale is just around the corner. This marvellous Yorkshire show is one of our very favourites. For one weekend the Skipton auction mart is bedecked with woolly bunting and transformed into a haven of textile delights..
We're particularly looking forward to this specific Yarndale because here we will unveil our swanky new show signs. Cornish artist and fairground sign writer extraordinaire, Amy Goodwin, has created some spectacular Mill inspired hand painted signs for our show stand. Please find a sneak peak of Amy's work in progress below and click here to take a look at her website… for those of you unable to attend the show, we'll make sure to take some photos to share with you next week!
But don't worry – our stand will certainly still be recognisable as us! The Tops enthusiasts amongst you will be pleased to hear that John has expanded his tower of Tops to encompass twice as many cans. This is splendid news as it will enable us to bring extra exciting show specials and limited edition blends – and an even more splendid rainbow of different shades and textures…
We will of course be bringing our just launched expanded palette of Harvest Hues Tops for your delectation. This bouncy blend of 65% Falklands Merino and 35% Devon Zwartbles now comes in a sumptuous range of thirteen autumnal shades.
But it is by no means just about the Tops … we'll also have an abundance of delicious Yarns. Our fandabulous Knit by Numbers cabinets and mini skeins, our lustruous Devonia and characterful Exmoor Zwartbles to name but a few … and we will, of course, also have our brand new expanded colour palette of Harvest Hues 4-ply yarn. Thank you so much for all your enthusiasm about these lovely new shades over the last few weeks – we just can't wait to show them to you in person.
To go with our expanded range of Harvest Hues Yarn shades, we have gathered together five new Patterns, pictured below…
Frankie has created a stunning jumper pattern, Vellamo as well as reworking her popular Gilt Wood Shawl in a delicate new colour combo (see both above). Meanwhile Alice has designed the gorgeous Ebel shawl using three complimentary shades, and a playful colour pop (also see above).
Our very own Sonja has whipped up a suavely chic two tone short sleeved jumper pattern, Maranta (see below). Last but not least, Fay has created this graphic, modern cowl, Arete, in a wonderful zig-zag pattern, with the yarn held double (also below).
If you fancy then Click Here to look at all our fab new patterns. 
We're absolutely chuffed to bits to be able to let you know that Frankie will be joining us on our Yarndale stand all weekend – just like old times. We know many of you love seeing her and having a natter… If you're a fan of Frankie's patterns then stay tuned for next week as we'll have a very special and exciting announcement about the lovely Frankie and her designs.
Rightio, that's about it for us until the weekend – we're so excited to say hello to all those who can make it to Skipton and to soak up the woolly fumes of the show. And to finish … here is a taster of our favourite new show sign below…
You can find out more info about Yarndale here.
Address:
Skipton Auction Mart
Gargrave Road
Skipton
BD23 1UD
Opening Times:
Saturday 29 September – 10:00 – 17:30
Sunday 30 September – 10:00 – 16:30